In the spring of 2017, Animal Adventure Park in Harpursville, New York began live streaming footage of their pregnant giraffe, April and her mate, Oliver. April became an internet sensation, as over a million viewers stayed glued to their computer screens, in anticipation of seeing the birth of April's calf.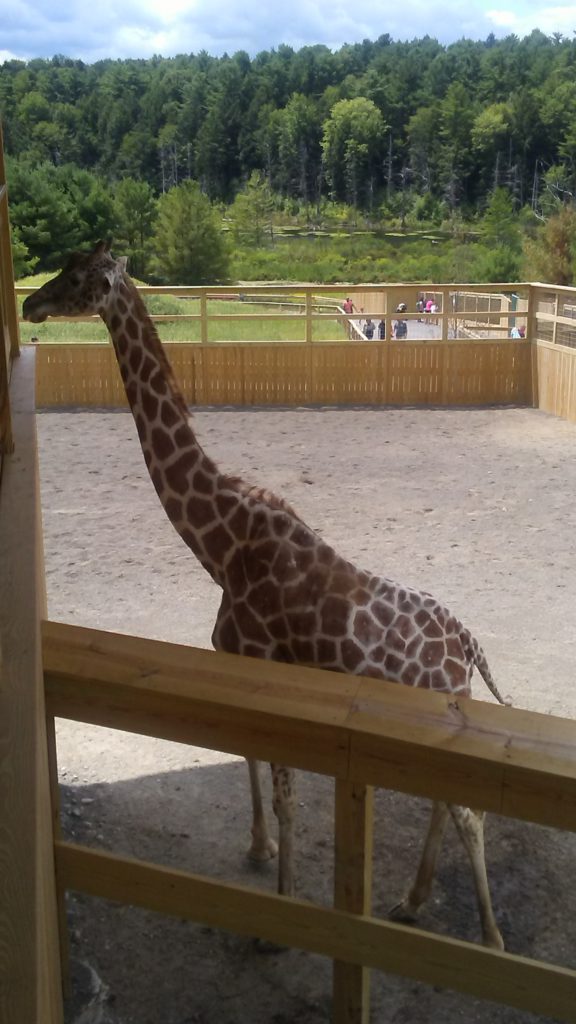 Finally, the day came when April went into labor. The kids and I watched her pace back and forth, while the zoo provided frequent updates on her progress. There was a lot of excitement when a little hoof started to appear. She was almost there! Then our internet went out. Seriously??
It came back on a minute or so later and the calf was laying on the floor in a little heap. We continued to stay tuned here and there over the following months. It was fun seeing Tajiri grow from a 6ft tall newborn to the big boy he is now. I said whenever we got to that part of the country, we would have to go visit. A few weeks ago, we finally got that chance.
Animal Adventure Park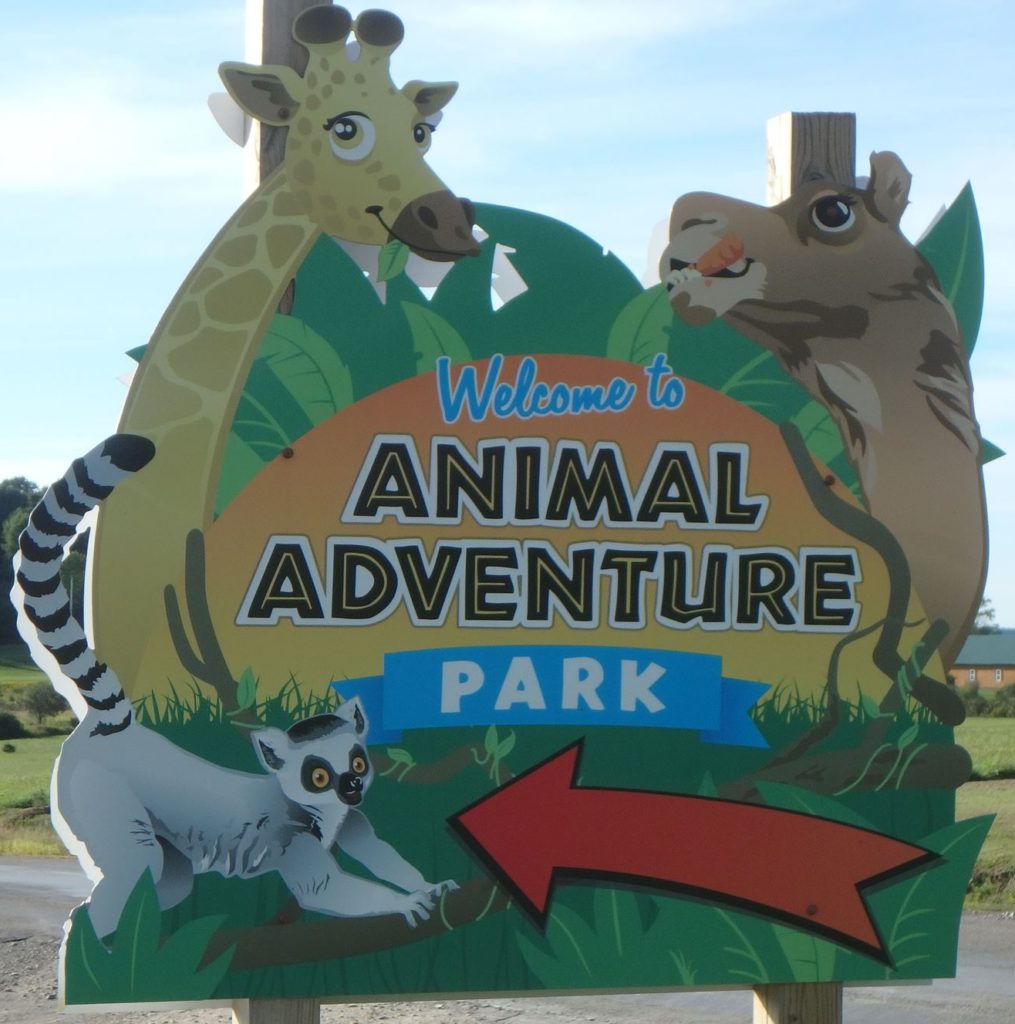 AAP wasn't difficult to find with GPS, even though we had to drive down some country roads to get there. I was more concerned about parking, because this is a popular place and it's the busy summer tourist season. I was really surprised to see the owner, Jordan, out directing traffic (I recognized him immediately from his videos). I thought it was really cool how hands on he is with every aspect of his park. He waved us into the parking lot and we had no trouble finding a spot from there.
On this particular day, the weather was perfect (in the upper 60s to low 70s all day). There were a lot of people there but it wasn't as crowded as we thought it would be. It didn't take long to get our tickets and enter the park.
The zoo itself was smaller than I imagined but everything was neat, orderly and laid out well. The animal enclosures are as close to being like their natural habitat as possible. You can tell these people have poured their hearts and souls into this place. There is no question these animals are very well cared for. The grounds are neat and clean and it's easy to find your way around with a map (and it took us only about two hours to see all the animals).
The only thing we didn't like was that we were not allowed to bring water with us (no outside food or drink permitted). There are places to buy bottled water (for $2.00 each) but we didn't want to do that since we had a whole case of water in the back of our car. Fortunately, you are allowed to leave and come back as often as you wish on the date of your ticket. We saw some people sitting at a picnic table just outside the gates, having lunch.
April, Tajiri and Azizi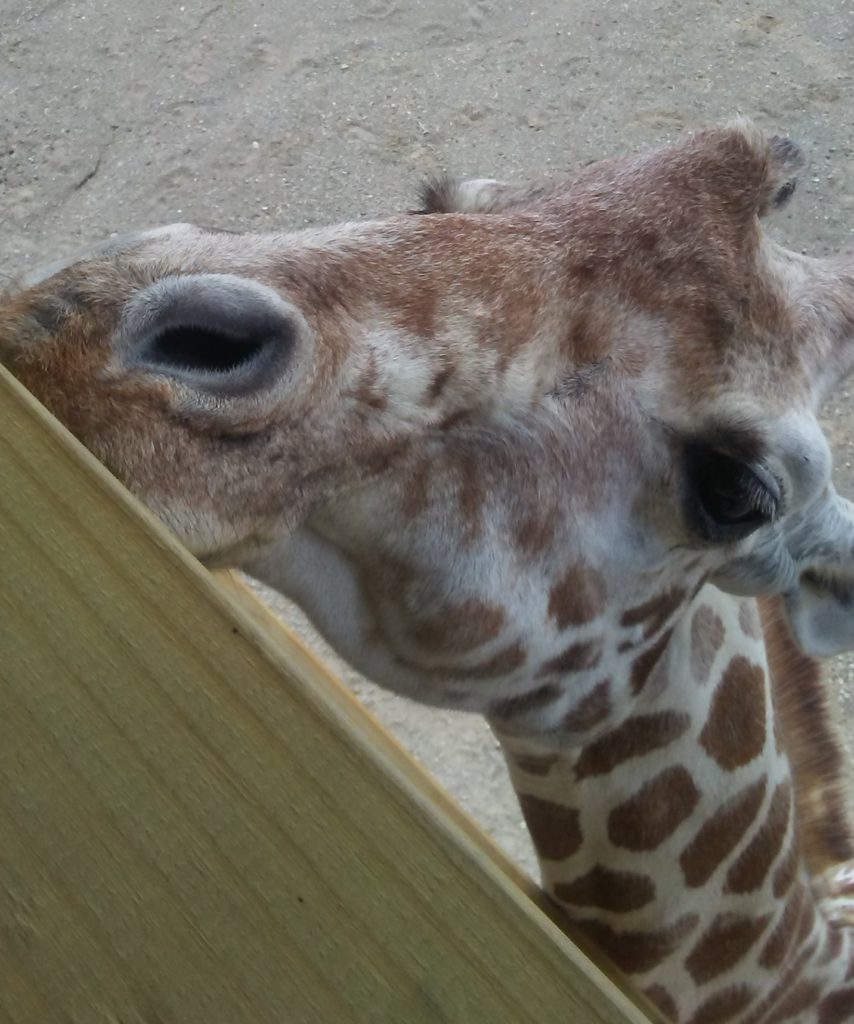 If April could talk, our conversation with her would have sounded a little like this:
Me: We are so excited to see you. We drove over 1,600 miles to get here!
April: Are those carrots in your hands? I want them.
Me: Your newest calf, Azizi, is so cute. I see he's still nursing.
April: Got any more carrots?
Me: How do you feel about your mate Oliver moving to the other side of the zoo and hooking up with someone else?
April: If you don't have any more carrots, I'll go find someone who does.
Yep, that girl is all about the carrots. After all the time we spent watching them on live stream, it was a lot of fun to see April and her babies up close and personal (while standing on the giraffe deck).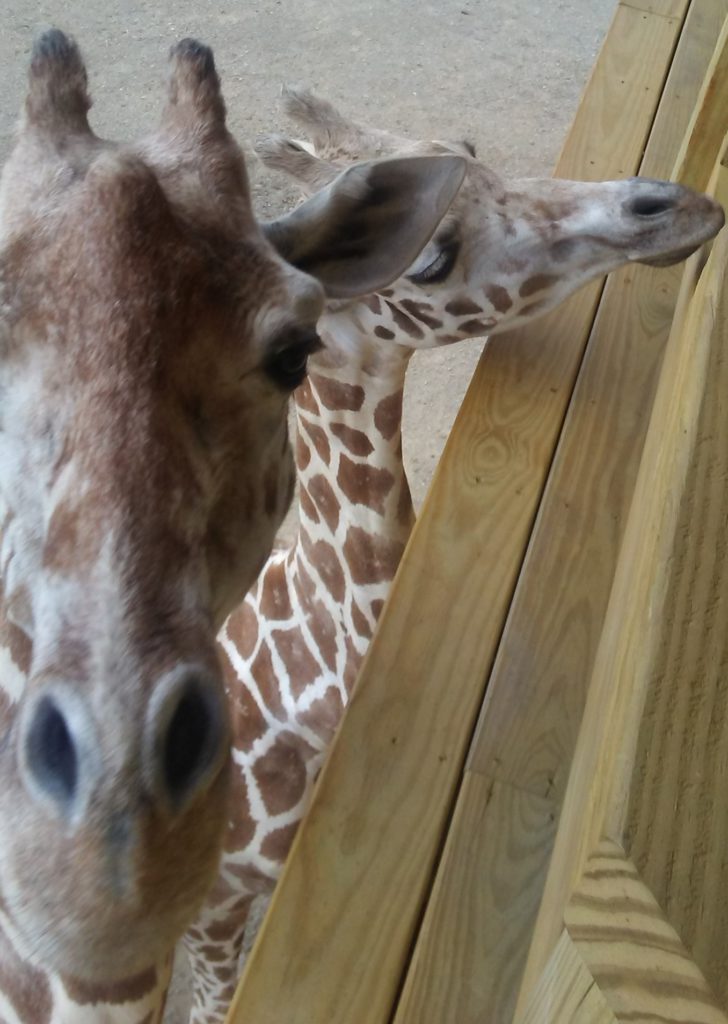 Oliver and Johari
AAP recently built a second giraffe barn, acquired a new female giraffe named Johari, and moved Oliver in with her. They decided April is done having babies and put her on birth control. Now she gets to share a giraffe barn with her two sons, while Oliver gets to know his new lady love in the other barn which is further into the zoo (April's barn is near the front and tends to be where people go first).
Oliver seems to have taken the changes in stride. As long as he has a mate he's good. Johari was laying down most of the time, until she decided to stand up and do her business right behind the zookeeper while he was talking to us on the deck.
Other Animals
The giraffes might be the stars of the show, but there are a lot of other animals there too. We took our time looking at all of them (most were visible but a few were not). Our favorites (besides the giraffes) were the lions and the black bears.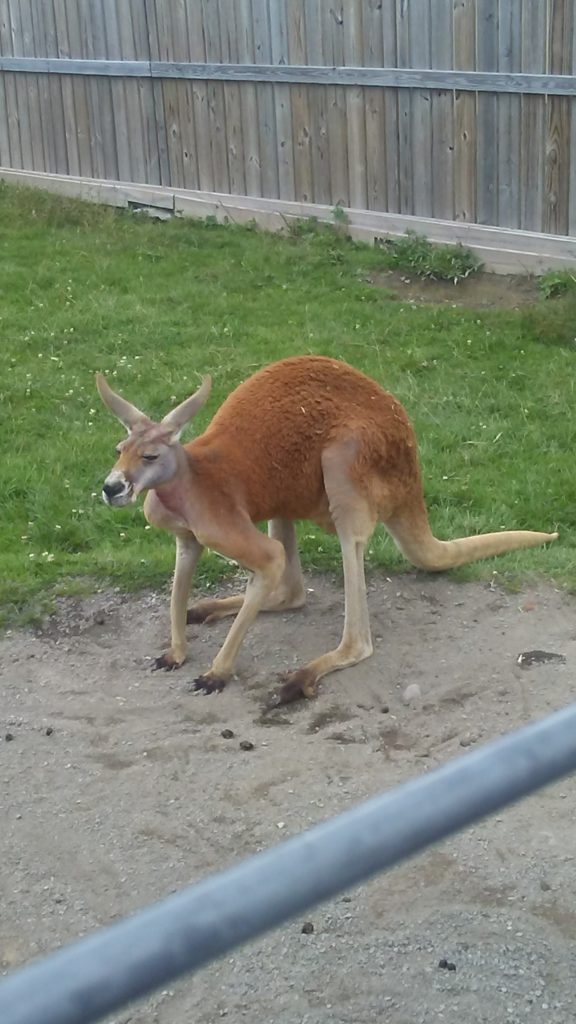 More Information on AAP
Here is some more information on Animal Adventure Park, if you're thinking of visiting. A little tip: bring plenty of carrot money (there is a place in front of the giraffe barn to buy them).
Address: 85 Martin Hill Rd Harpursville, NY 13787
Hours: 10am – 5pm, 7 days a week from May 1st to Sep 2nd. Open only Fri-Sun from Sep 3rd to Oct 20th.
Website: https://theanimaladventurepark.com/
You have to walk through the gift shop to exit the park (clever way to get people to spend more money!).
Hotels: There are a lot of hotels a short drive away in Binghamton. Double Tree, Fairfield Inn, Residence Inn, Courtyard, Hampton Inn and Holiday Inn are just some of them. We stayed at Three Bear Inn in Marathon (booked through Airbnb).
Restaurants: There are a lot of restaurants within 10 miles of AAP, including Main Street Grill and Bakery, Moxie Grill, Pizza Shack, China Star, Henry's Drive In and Hitching Post Restaurant. We just ordered pizza from New York Pizzeria, which is across the street from our motel. Three Bear Inn also has a restaurant.
Are you one of the million or so people who have followed the lives of April and her crew? What do you think of the work they are doing over at Animal Adventure Park? Please feel free to share any comments or questions below.
Happy Travels!