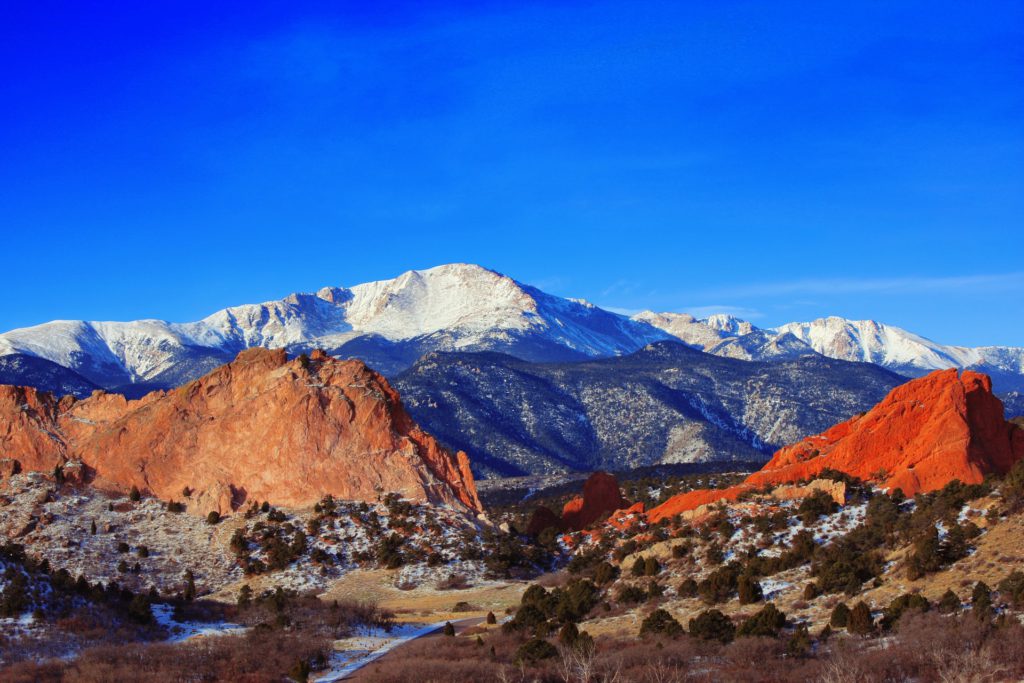 Our trip to Colorado was a present from Anthony for my birthday, which is in April. He had been there a couple times but I never had. If you're planning to visit Colorado in the spring, you're in luck. While it did rain some while we were there, the weather overall was quite nice for these Texans who are used to hot weather. It got cold at night but during the day it would get up into the low to mid 60's.
Since we were only able to be there for a few days, we were limited in how much we could see. We wanted to get up to Denver, but there just wasn't enough time. We focused mainly on Colorado Springs, with a brief stop in Alamosa along the way.  
If you're like me and not used to being around mountains, the Rockies are absolutely stunning. I was mesmerized by them. I'm not exaggerating when I say I have never seen such beautiful scenery in my life. As we drove to our hotel in Alamosa on the first day, I was speechless as I snapped picture after picture from the passenger side window. I wanted a way to hold on to that beauty but unfortunately no pictures can possibly do it justice. It's one of those things you need to experience for yourself.  
                                 

Sand Dunes Alamosa Colorado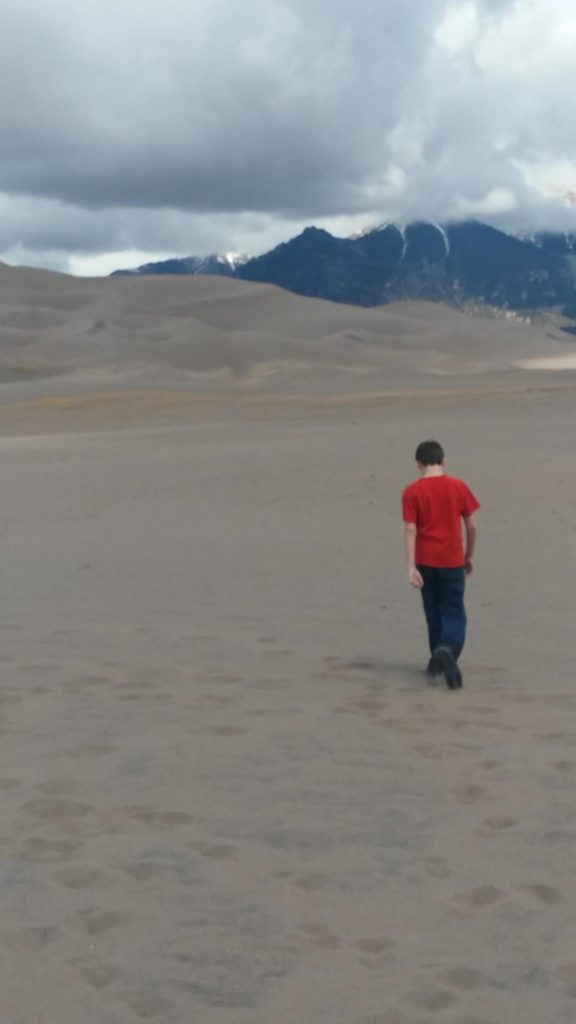 We spent our first night at a Fairfield Inn in Alamosa. We knew that Sand Dunes National Park was around there somewhere and had talked about stopping by the next day. But we got off to a late start the next morning and decided to skip it and just head on up to Colorado Springs. As luck would have it we were able to go anyway because it was located just off the highway that leads out of town! We just happened to arrive on a day when it was free to get in. We looked around the visitor center for a bit before driving over to the sand dunes for a couple hours.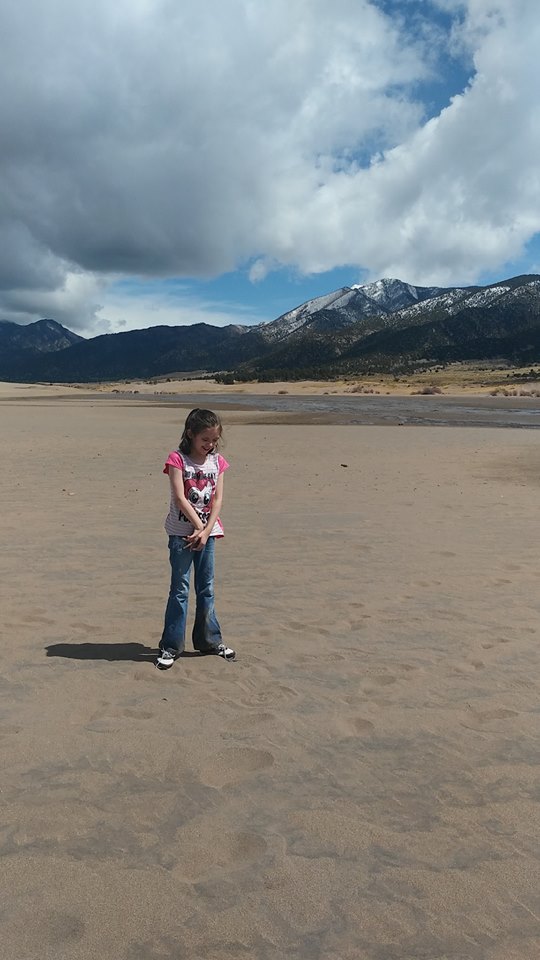 We didn't come prepared to do any hiking so we spent the whole time at the base of the dunes. We took our shoes off and splashed our feet in the creek that runs through there. Then we walked a little closer towards the massive dunes in front of us while still staying on the "flat part". I love the feel of sand underneath my feet but I had to put my shoes back on because that sand can get really hot! Even the base is so huge that the sand seems to stretch practically to the mountains in the background. And we were only seeing a tiny part of the entire 30-mile park!  
                              Camping in Colorado Springs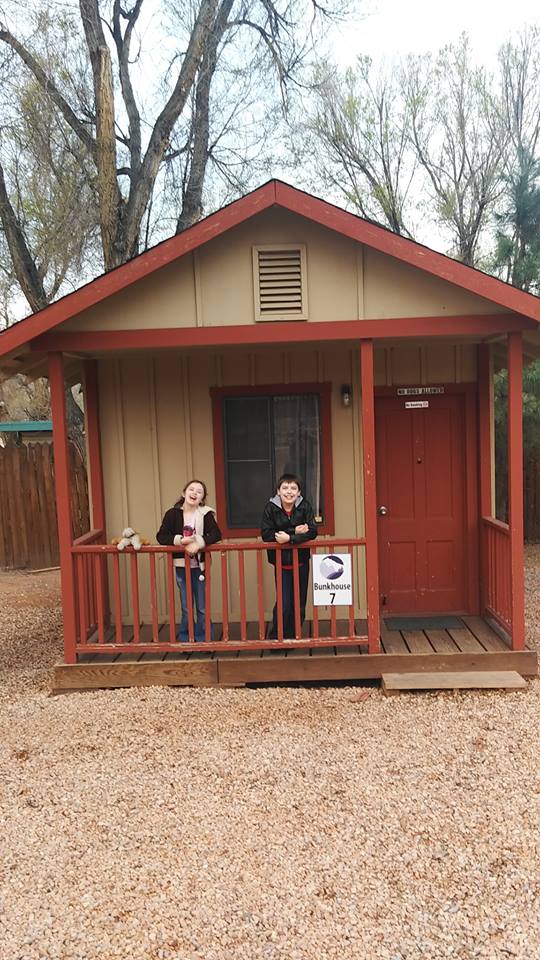 We stayed at the Garden of the Gods RV Resort. We wanted to go camping but because of our previous experience battling a surprise rain storm while tent camping far from home, we wanted to have a roof over our heads too. The cabins were a bit out of our price range, so we stayed in one of the bunk houses. They are nothing more than a sleeping room (which consisted of a queen size bed and a bunk bed) and a separate room with a table to sit down for meals. But they were clean, cozy and definitely better than sleeping in a tent. Plus, because we happened to arrive at a time when there were practically no other bunk houses being occupied, the kids had the whole courtyard area to themselves to play.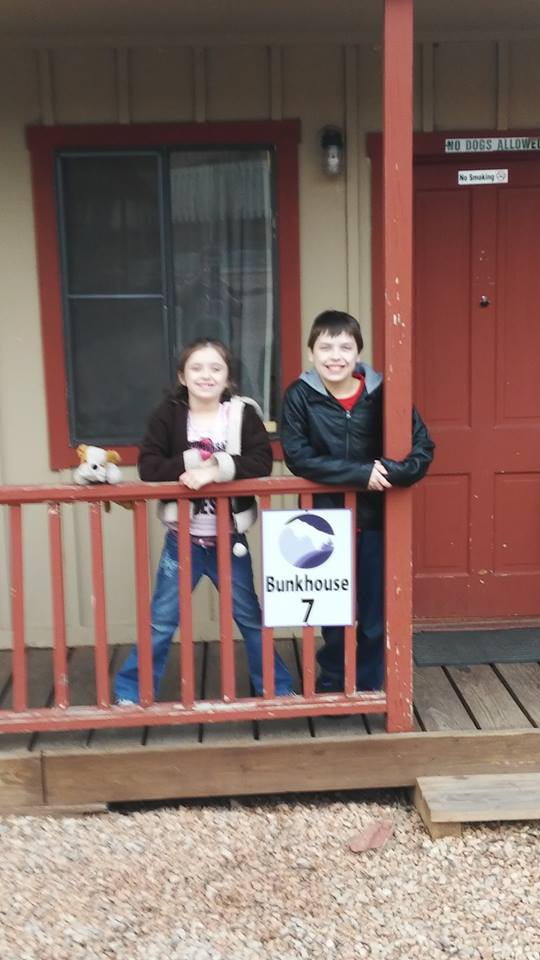 There are no restrooms in the bunk house section of the campground, so we had to walk to the ones located next to where all the big RV's and motorhomes were parked. The restrooms were very clean and well maintained. We had to use a code to get in, which gave an added feeling of security. The nicest restrooms are in the front of the campground, right next to the office. We went there to take showers and wash clothes in the adjoining laundry room. The neighborhoods surrounding the campground might leave a little to be desired, but the place itself is clean and safe and we enjoyed our stay. The management was really friendly and helpful.
                              Garden of the Gods Park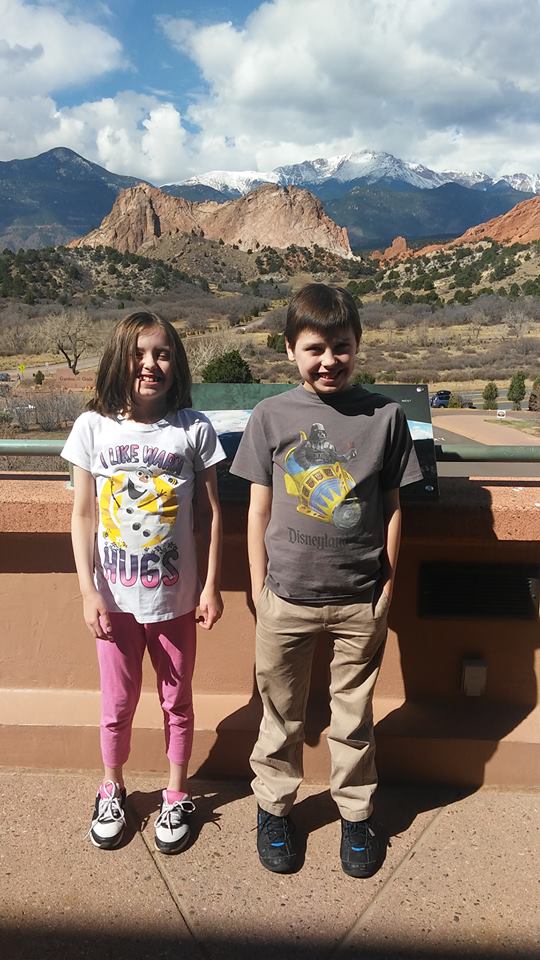 Garden of the Gods National Park is located (surprise, surprise) a stone's throw away from Garden of the Gods campground. Katie took it upon herself to nickname both of them "God's Garden" so between us that is what we refer to them as now. We started our day at "God's Garden" park with a nice breakfast in the café. We sat at a table next to the window which offered the most stunning views. If I could sip my morning coffee with a view like that every morning I would be one happy lady.
Next, we walked around the visitor and nature center and looked at some exhibits. Finally, we hiked one of the trails, getting up close and personal with some of those giant red rocks as well as some of the wildlife in the area (mostly rabbits and deer). That hike pretty much did Anthony and I in so we headed back to the campground, where the kids proceeded to run around like they had been cooped up all day and we just now let them out. The youngest Joneses have boundless energy!
If you would like more information on God's Garden—sorry—Garden of the Gods National Park visit their website at https://www.gardenofgods.com/
                             Rock Ledge Ranch Historic Site
We stopped by this living history farm and museum at a time when it wasn't busy at all. We walked around some trails and enjoyed looking at some animals. It felt like stepping back in time. Where we were it was really quiet and serene. We plan to go back and enjoy some other features of Rock Ledge Ranch in the future.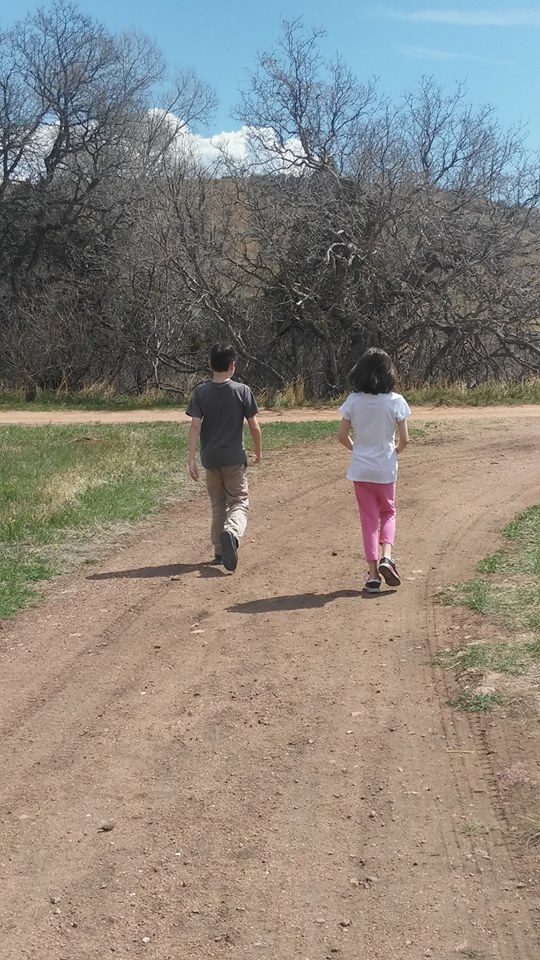 Next Time
We didn't get a chance to do everything we wanted to when we were in Colorado Springs. So, I've come up with a top five list of places we're going to go next time we're there. We also want to leave enough time in our schedule to get up to Denver!
Cheyenne Mountain Zoo
The Broadmoor
Ghost Town Museum
Pikes Peak Highway
Glen Eyrie Castle
Have you been to Colorado? What did you enjoy most about your visit? Are you planning a visit in the future? Let us know in the comments below.