I have loved Missouri ever since I was a little girl and we lived in a town on the Kansas side of the Kansas/Missouri border. We would cross the border frequently to go shopping in Kansas City or visit relatives. We still have loved ones there we look forward to seeing in a few months, but for now our travels have us in a different part of the state.
From Springfield, Illinois we drove to St Louis, Missouri. From there we went to Springfield, Missouri and Branson before heading back to Texas for a break. Here are some things we saw and did. If you're planning any Missouri road trips of your own I hope this helps.
St. Louis Zoo
The St. Louis Zoo combines three things we love. Animals, exercise and saving money (it's free, except for parking which is $15.00). We went on a Saturday and it was more crowded than Disneyworld, if that's even possible (but what did I expect? It was a Saturday in a major city and it's free!). We almost changed our minds about going but we're glad now that we went. It was a lot of fun! Anthony took some great videos, including this grizzly bear having some fun.
What I wasn't prepared for was how big it is! Our only regret was not staying in St. Louis an extra day so we could take our time there. We left that same day to drive to Springfield, Missouri so that was always in the back of our minds and we had to skip some things because of time constraints. So if I could have a do-over I would definitely plan to make an entire day of this one.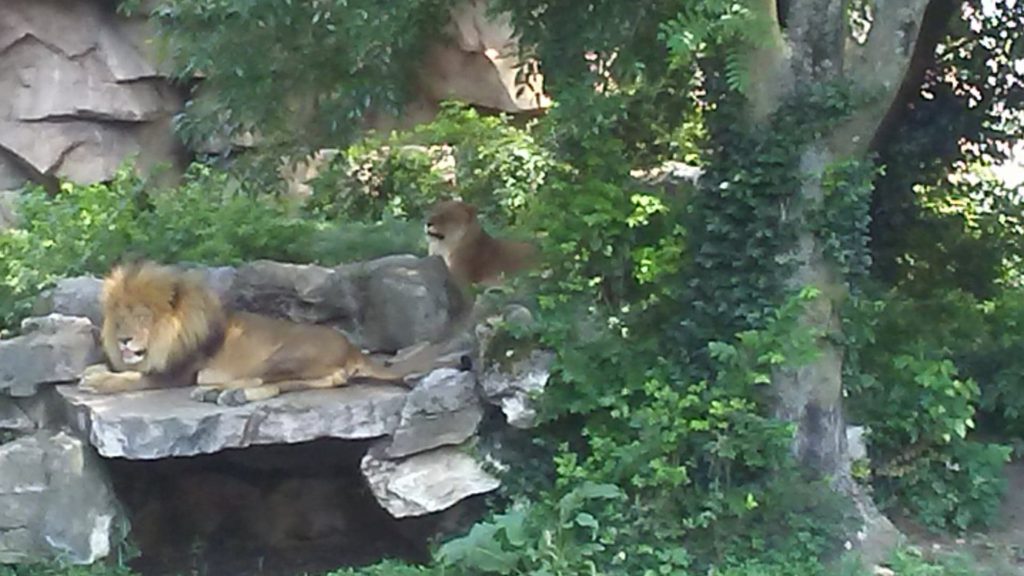 Laura Ingalls Wilder Museum and Homes – Mansfield
We've been here before, in the summer of 2015. You might have seen me mention it in another blog post. Mansfield is an adorably small, quiet, friendly town. I imagine it gets more crowded (and less quiet) during the annual Wilder Days celebrations but we haven't been to one of those yet.
When we were there last time the museum was right next to the Rocky Ridge house, but they were in the midst of moving the museum to a larger building. We said we would make a return visit to see the new museum and four years later we finally did just that. Now there is a little path that leads from the museum to the house.
The museum has a lot of interesting artifacts from the lives of Laura and her family. These include Ma and Pa's wedding certificate, letters to Laura from her family, Pa's fiddle and much more. There are even some items from the television show, including the hat Michael Landon wore as "Pa".
Unfortunately, they don't allow pictures inside the museum or the houses, so we were limited to outside shots. We took pictures of the kids in some of the same places to see how much they've grown in four years. Needless to say they grew a lot in that time!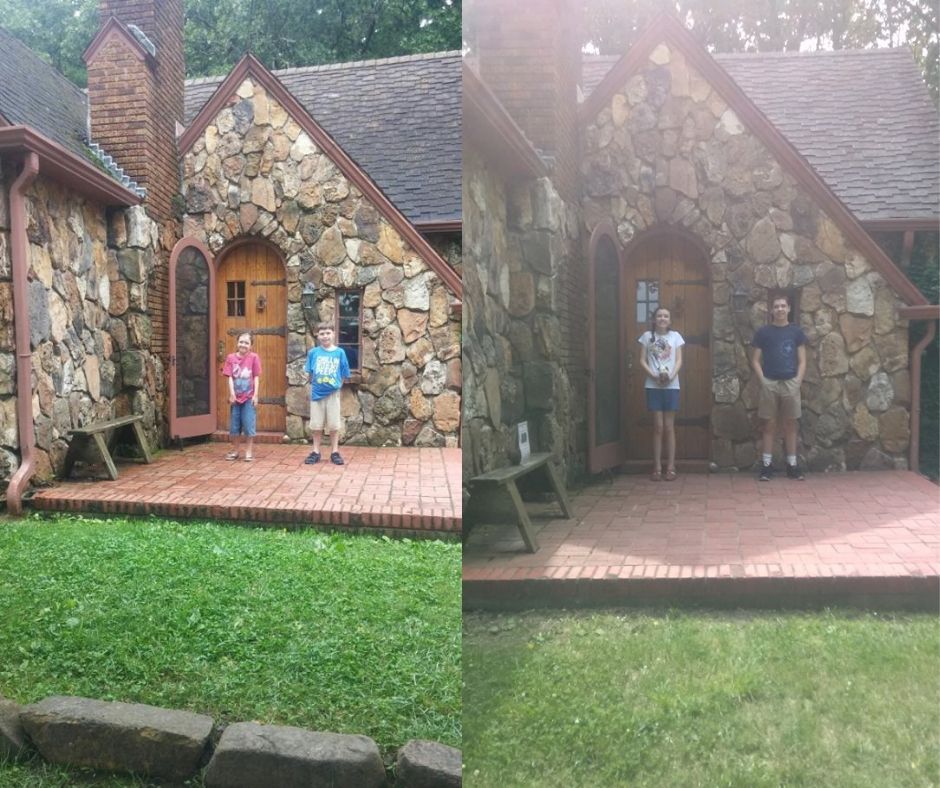 After visiting the museum and the two houses Laura and Almanzo lived in, we stopped at Sweet Nelly's Ice Cream Parlor for lunch. I had Manly's pork tenderloin sandwich, Katie had Rose's grilled cheese sandwich, Joshua had Nelly's Nasty burger and Anthony had Oleson's chicken fried steak sandwich. We finished it off with some of their delicious ice cream.
80s World – Branson
Next, we spent four days in Branson. We noticed that there was a little store across the street from our hotel called 80s World. Since Anthony and I are 80s kids to the core, we had to pay a visit. It's a small store, but we enjoyed looking at all the retro stuff and playing around with some of their props.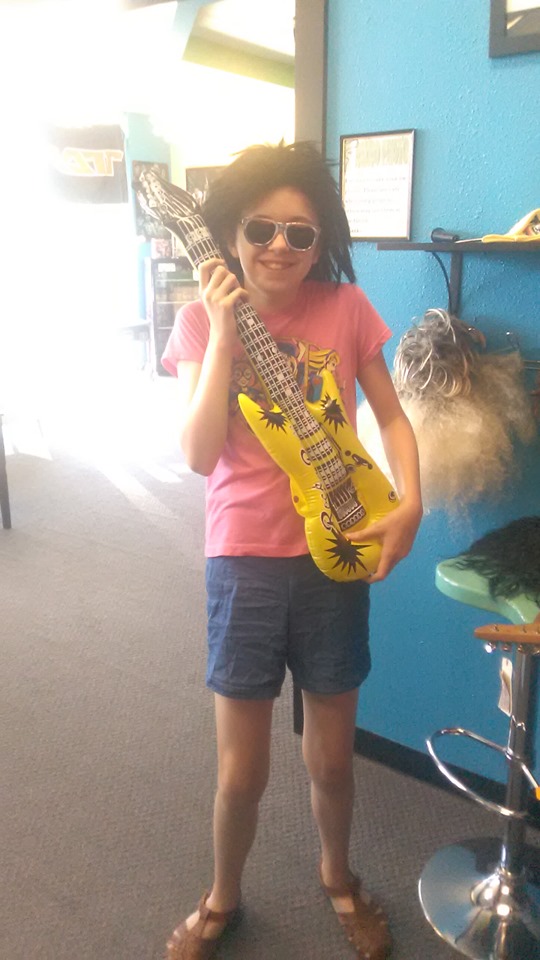 Titanic Museum – Branson
There are two Titanic Museum locations. One is in Pigeon Forge, TN and the other is in Branson, MO. They are both owned by John Joslyn, who headed an expedition to the Titanic in 1987. We went to the Branson location.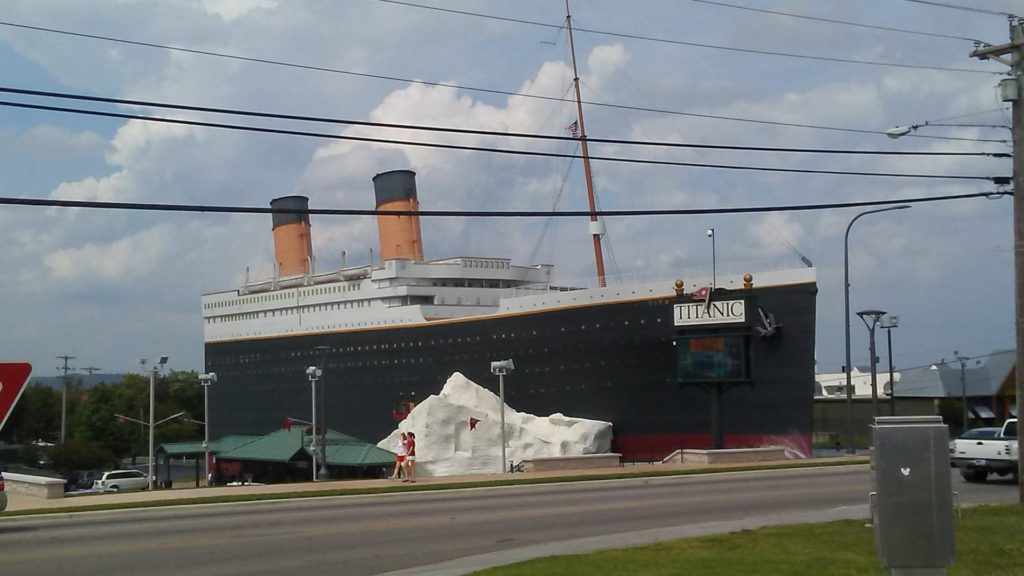 The museum is shaped like the Titanic and the front sits in a pool of water, next to a fake iceberg. You are given a boarding pass upon entering, which holds the name of an actual passenger. At the end of the self-guided tour there is a wall where you can check and see if your passenger survived or not (mine and Katie's both survived, Anthony and Joshua's did not).
The museum is very tastefully put together. It's a nice memorial to the victims of the Titanic. You learn a lot of their stories as you go along and get a glimpse of what it must have been like for them that night. If you are like me and cry easily, I suggest you bring tissues.
Celebrity Car Museum – Branson
We weren't planning to go here, in fact we didn't even know it existed. We were driving back from dinner and saw the Scooby Doo Mystery Machine in the parking lot. They also have cars from the movie Ghostbusters and Jurassic Park. We went back the next day just to take pictures in the parking lot. We decided to go into the building and look around. Then we decided why not, let's go to the museum! Well played, Celebrity Car Museum, well played.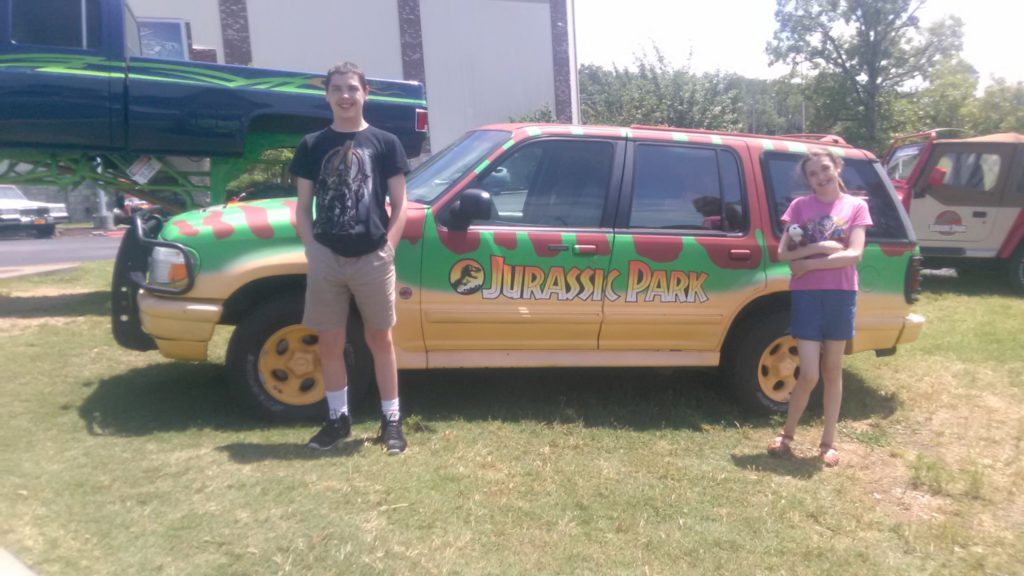 It was a lot of fun. They had a lot of cars from actual movies and others that are replicas. Our favorite, hands down, was the actual DeLorean from Back to the Future II and III.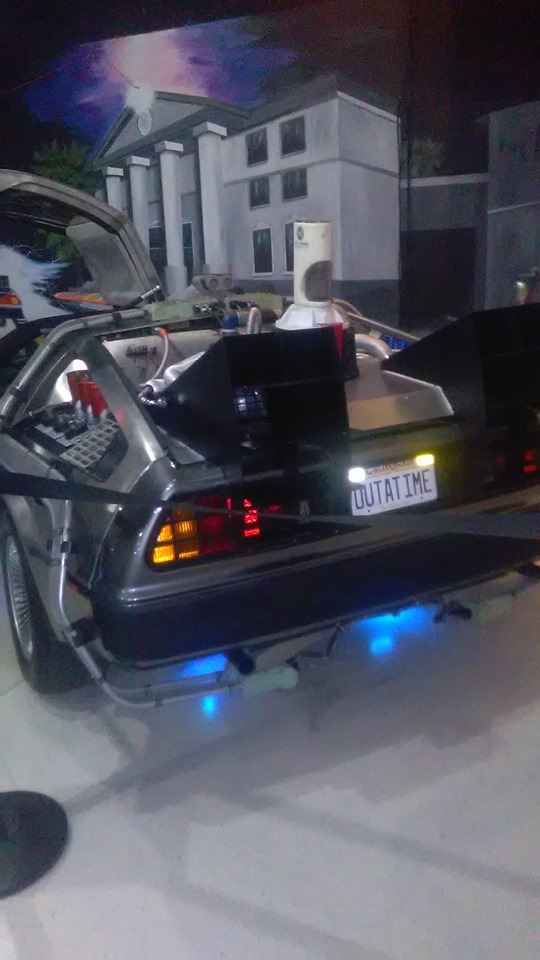 World's Largest Toy Museum – Branson
I don't know if this is literally the world's largest toy museum, but it very well could be. It takes up two buildings! They have toys from the early 20th century all the way up to more modern. It's pretty cool! Anthony and I enjoyed spotting toys we had when we were children.

Hollywood Wax Museum – Branson
After several days of seeing the back side of King Kong from our hotel room window, we decided to go over to where he lives at the Hollywood Wax Museum.
I'll be honest, this one was a disappointment. They had some good wax figures and they have props so you can take pictures with them. The problem, we felt, was there weren't nearly enough figures to justify the price of admission. We did get some decent pictures though.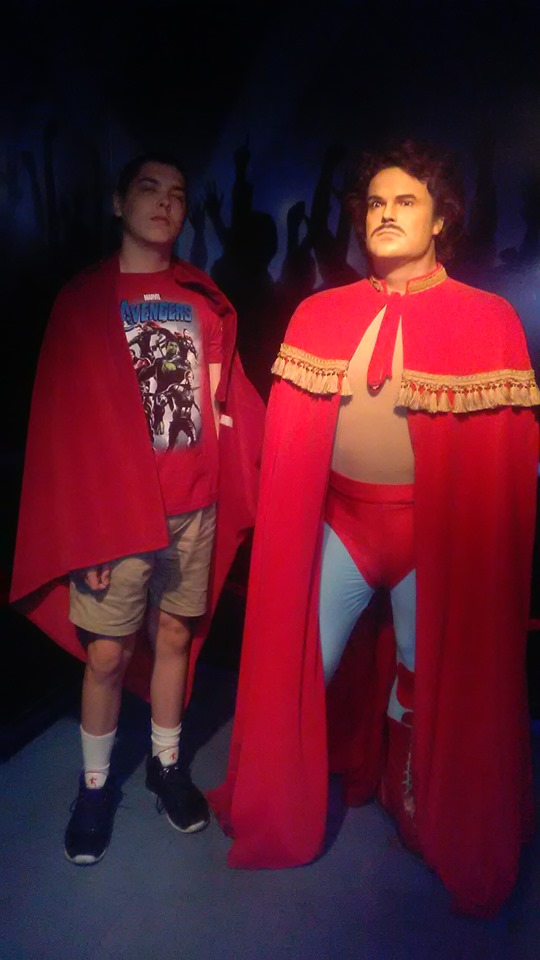 Taking a Break
We've been traveling for an entire month! We've gone to 14 states, stayed in 16 different hotels, visited two president homes, nine museums, one beach, two zoos and ate in who knows how many restaurants. We've also seen some of the most beautiful scenery! We're a little travel weary so we're heading home to Texas for a break before we finish up the last of our travel plans for this year.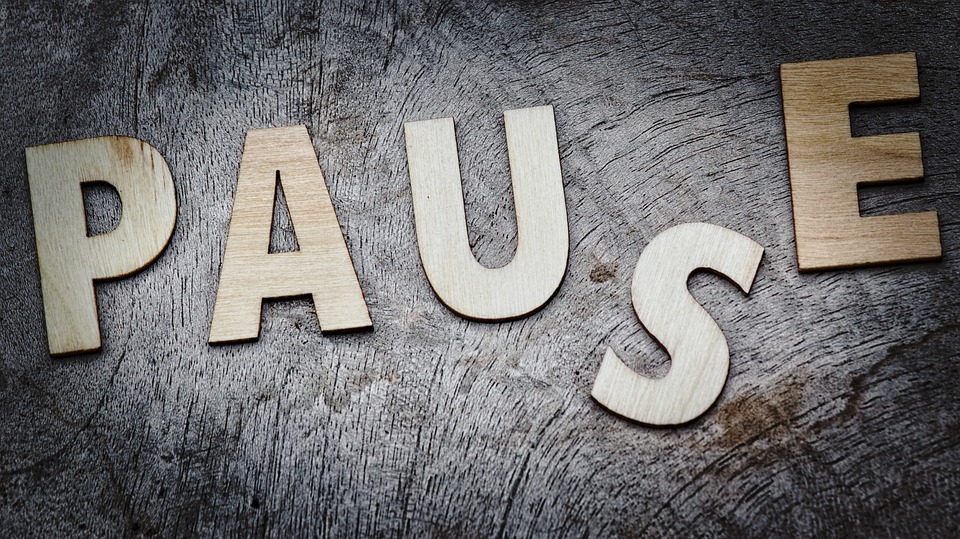 I have several writing projects to finish and I will also continue updating this blog. I'm going to be talking about things we have learned after a month long road trip, budgeting for a long road trip, making money while traveling and much more.
If you have any comments or questions about anything road trip related please leave them below!
Happy Travels,