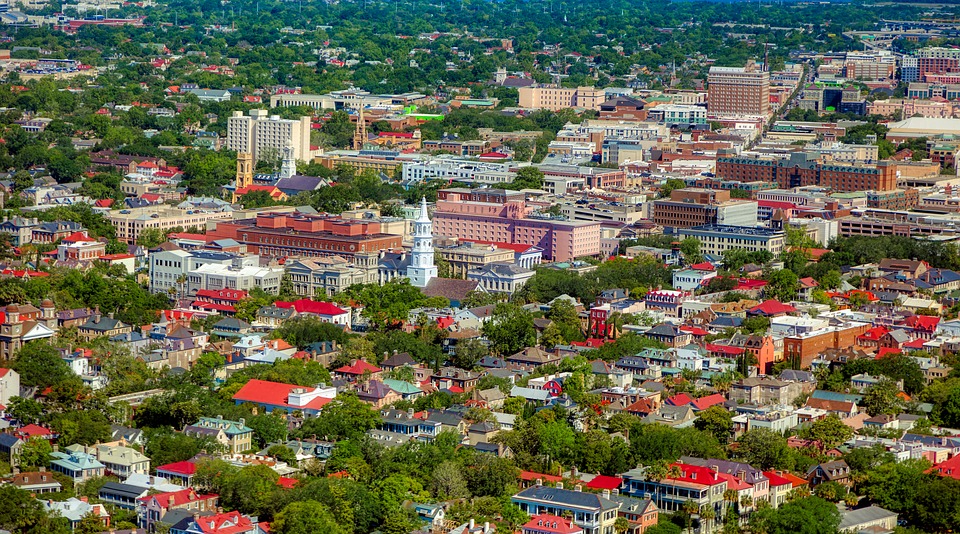 After a pleasant little drive of only a little over 100 miles we arrived in Charleston on Thursday afternoon. It's sure some pretty country out here. We probably couldn't have picked a better route for our road trip to Charleston, SC. Tree lined roads, cute little towns and minimal traffic. We actually arrived before our hotel room was ready (something that almost never happens) so we went and got some groceries while we waited.
Once we got all settled in we started planning where we were going to go sightseeing the next day. We just didn't have time to do everything we would have liked, or even do some things as long as we would have liked (looking at you, beach) but we packed in as much as we could!
Riverfront Park
The first place we visited was this lovely park next to the Cooper River. It was a hot day, but lots of big oak trees provided some nice shade. Some little ones played in a splash pad while their mothers watched but otherwise there weren't very many people there. Beautiful historic homes stood as the backdrop on one side with the river as the backdrop on the other. We walked around the Naval Base Memorial and the pier. It was a very quiet and peaceful setting.
Address: 1061 Everglades Ave, North Charleston, SC 29405
Hours: Daily 6AM-10PM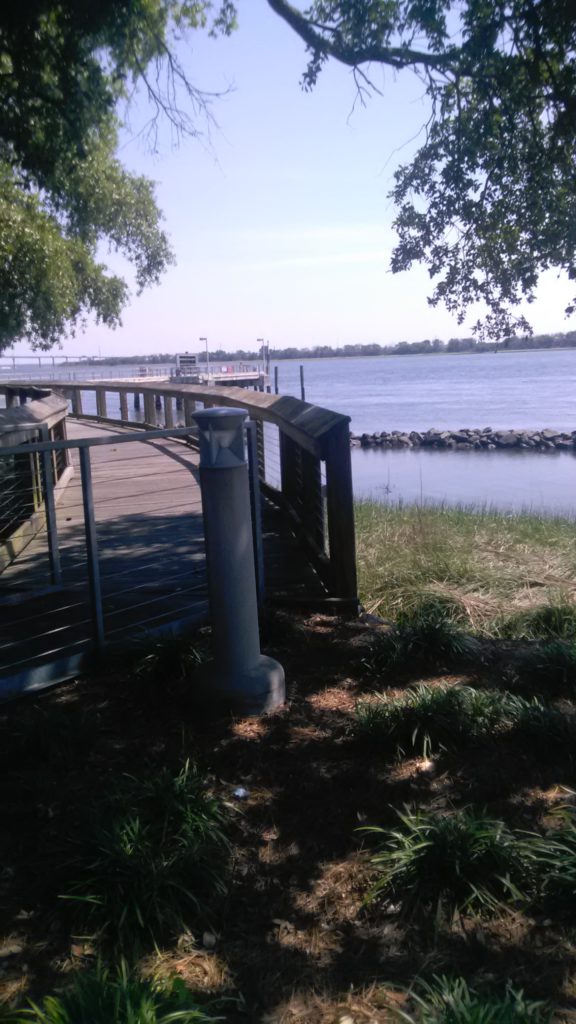 Mace Brown Museum
This free museum of natural history is located on the second floor of the College of Charleston. I will admit we first decided to go because it was free but it was so hot that doing something indoors became the final deciding factor.
We drove downtown and parked next to a meter. Someone, who will remain nameless, got a little too close to a pole and took off a small chunk of the passenger side mirror (but not the mirror itself). We put two dollars of quarters in the meter, to buy an hour of parking, and the meter gave us 9 minutes. After trying, and failing, to find someone to talk to about it we gave up and used a debit card to pay $2.00 for an hour.
Twenty minutes later we were finished! We thought it was going to be a big museum, but it's all located in just one room.
With forty more minutes to kill, we walked around downtown a little, but it was hot and we really weren't seeing anything interesting so we left with ten minutes left on the meter.
Still, there were some neat fossils in the free museum that we paid $4.00 dollars in parking and a partially broken side mirror for!
Address: 202 Calhoun St, Charleston, SC 29401
Hours: Thurs-Tue 11AM-4PM, closed Wed
Folly Beach
The museum wasn't what we expected but neither was Folly Beach. This time, however, it turned out better than we planned. We went to look at the lighthouse but realized that after parking it would be a longer walk than we anticipated. That would have been okay, but we didn't bring enough water for that much walking. So, we decided to spend some time on the beach instead.
We took our shoes off and put our legs in the water, and spent some time looking for shells. The ocean breezes brought a welcome relief from the heat and there was hardly anyone else in the area where we were. The best part though was how happy it made the kids.
Location: 12 miles south of Charleston on Hwy 171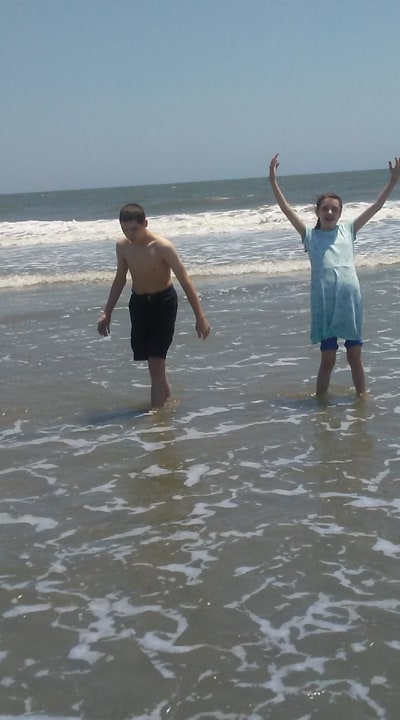 Other Things To Do In Charleston
Here are some things we didn't get to but potentially will next time (if we don't spend the whole time on the beach).
Waterfront Park
We were going to visit this park after the Mace Brown Museum, which is just a short drive away. We had a hard time finding a place to park and we were still recovering from our last parking experience, so we decided to skip it this time around. But here is some information on it if you want to add it to the itinerary of your own Charleston vacation.
Address: 1 Vendue Range Charleston, SC 29401
Size: 12 Acres
Hours: Daily 6AM-9PM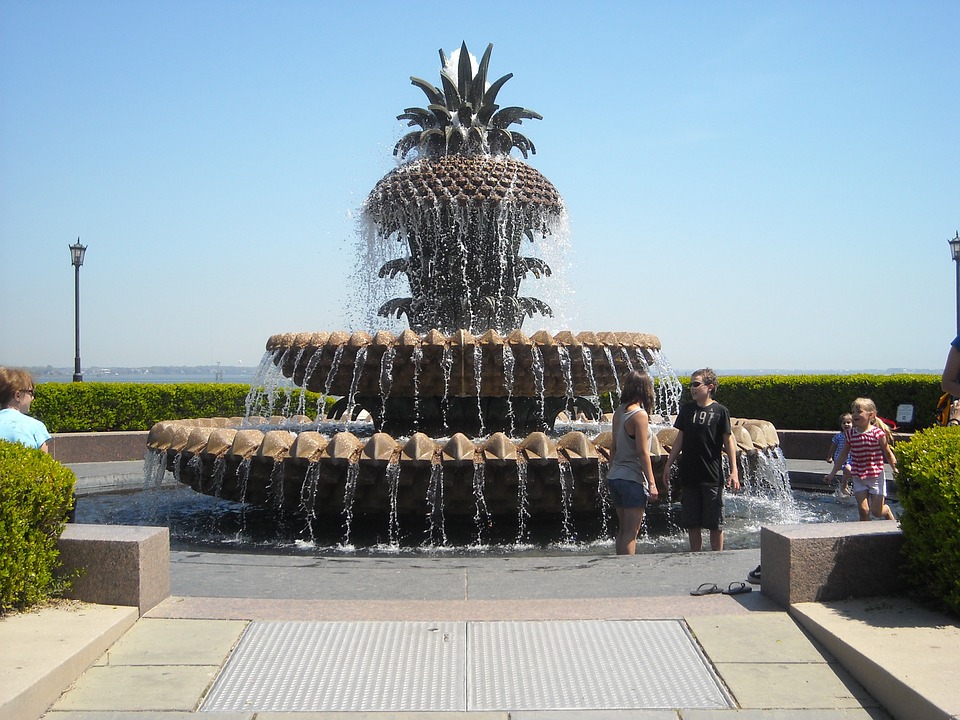 Fort Sumter
Before we started our trip I wrote down the price of attractions in the cities we planned to visit. Next to Fort Sumter I wrote $14.00 (for all four of us). Not sure what I was thinking because when I checked again closer to our visit it was more like $90.00. We decided to skip it this time but will definitely keep it in mind for next time. Here is some more information to help you in your planning (but if you spend all your time on the beach instead we promise not to judge).
Fort Sumter is only accessible by boat tours offered by Fort Sumter Tours
Departure locations: Liberty Square 340 Concord St or Patriots Point 40 Patriot Point Rd, Mount Pleasant
Website: https://fortsumtertours.com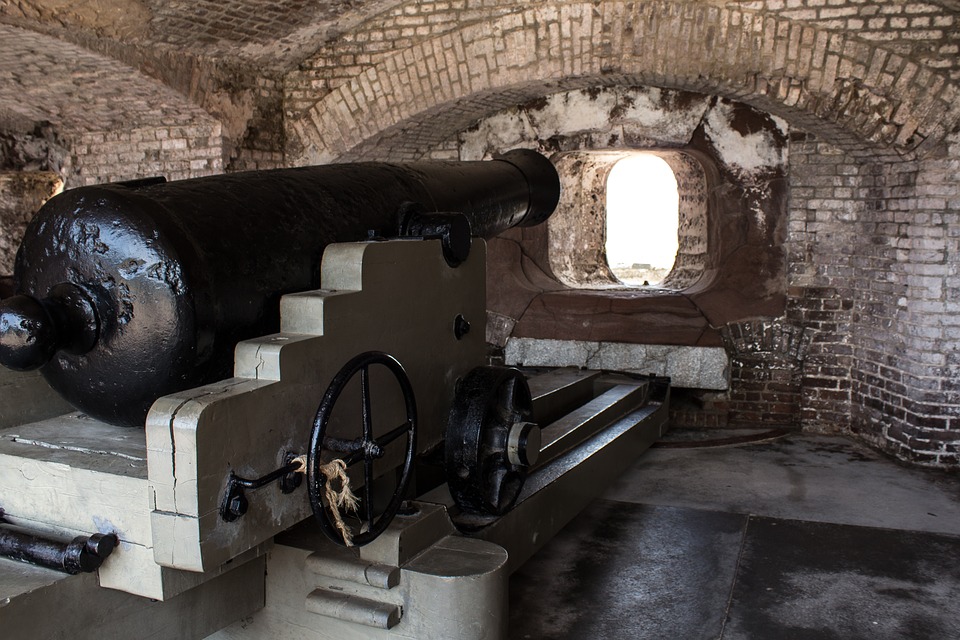 Morris Island Lighthouse
Be prepared to walk a long way and bring plenty of water! That's really all I can say since, you know, I never actually made it there.
Address: 1750 E Ashley Ave, Folly Beach, SC 29439
Website: http://www.savethelight.org/index.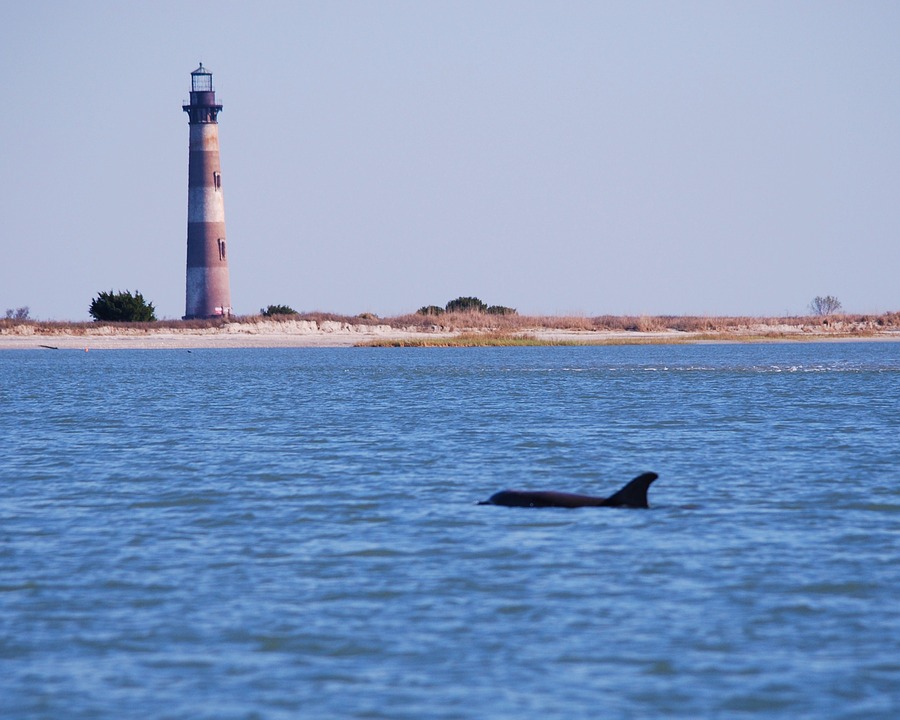 On To North Carolina
Our time in South Carolina was short and sweet. Next stop, Charlotte NC!
I know this list doesn't even begin to cover everything there is to do. Do you have a favorite attraction in Charleston or elsewhere in South Carolina? If you have any comments or questions please leave them below!