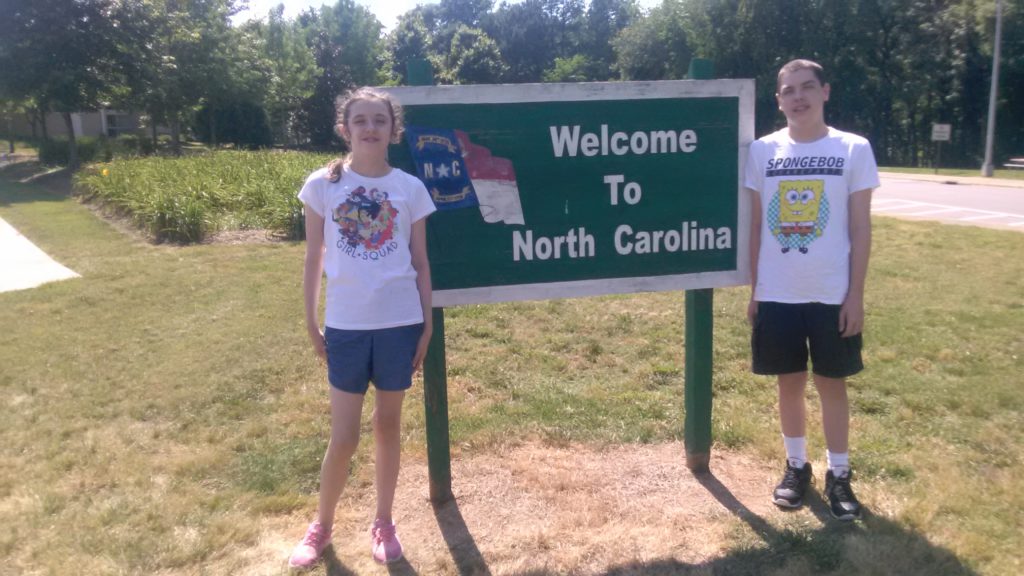 We crossed the border from South Carolina into North Carolina on Saturday May 18th. We chose Charlotte to stop in because we wanted to visit the Billy Graham Library. Since it's closed on Sundays, we used that as a day off and just relaxed at the hotel. Every day since we left Texas on May 9th has been busy in one way or another. It felt good to have a day with no agenda. We finally went out there on Monday after breakfast.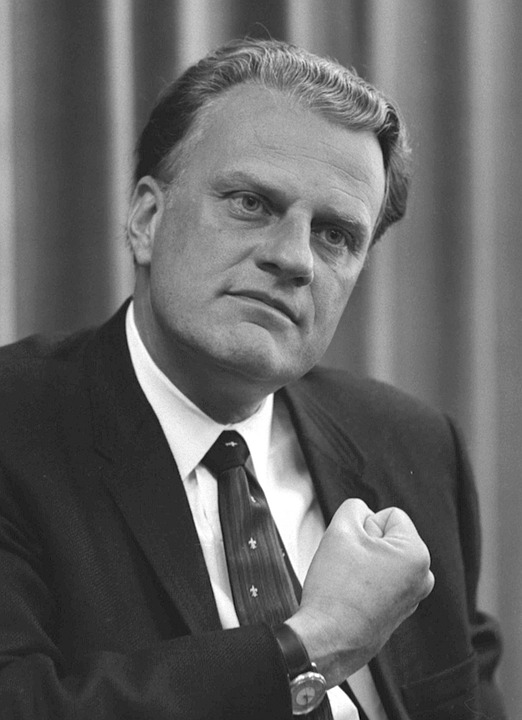 I don't know about you, but my impression of Billy Graham was always that of a kind, humble man who had been given a HUGE platform but never let it go to his head. Traveling the world, meeting with presidents and celebrities and being called "America's pastor" never changed him. He was always still that farmer's son from Charlotte.
From the moment we pulled into the parking lot and were greeted by a staff member at the gate, to the moment we walked out the door, everyone was so friendly and warm and treated each person like they were a special guest. That impression I always had of him could be felt everywhere we went.
Journey of Faith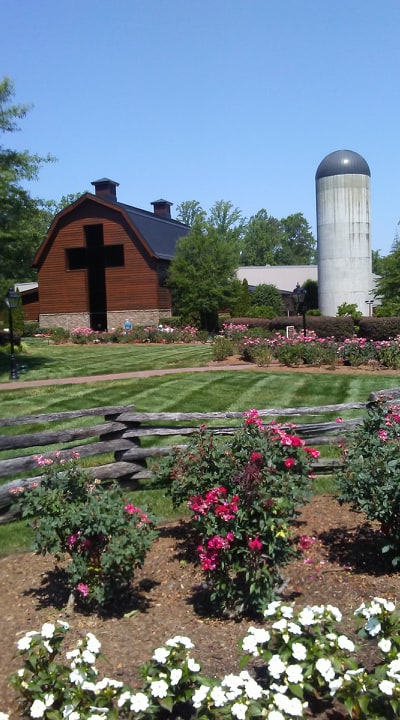 The library is located in a large, barn shaped building with a cross in front. When you walk in the door you are immediately greeted by a friendly person who hands you a map and directs you to a front desk.
At the desk they give you something called "Bessie's Brainteasers" which has a long list of multiple-choice questions you can fill out as you go along. Once the tour is over you can bring your completed card to Ruth's Attic bookstore to get a special gift.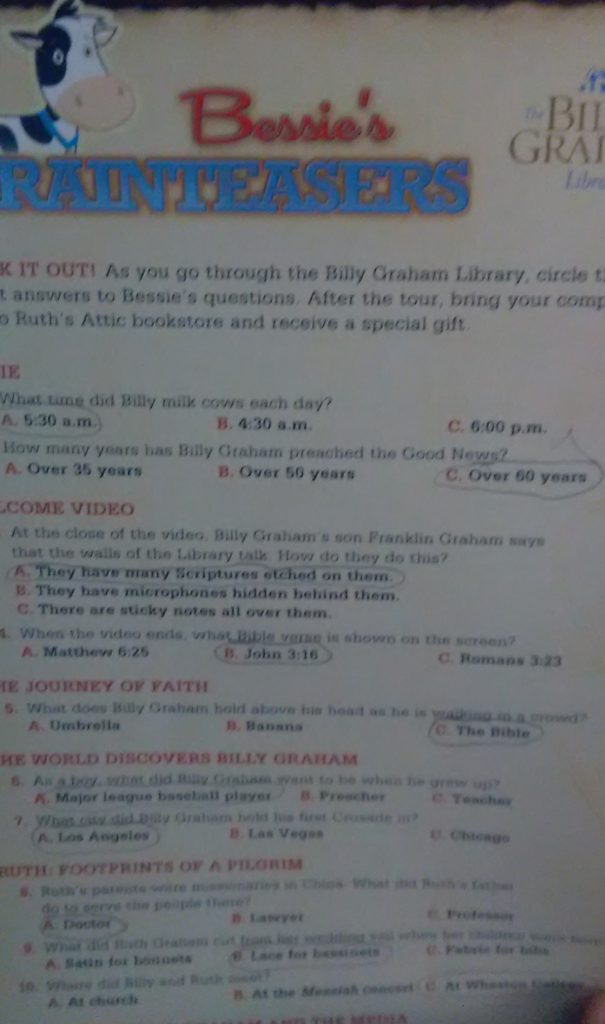 Then they direct you towards an animatronic cow (yes I said cow) named Bessie. I guess Bessie was the name of a favorite cow Billy had as a boy, growing up on his father's dairy farm.
Bessie talks a little bit about the child Billy Frank (as they called him growing up) and what life was like for him in those early years. Then a staff member directs you to another area to watch a short introduction video before you begin walking through the galleries.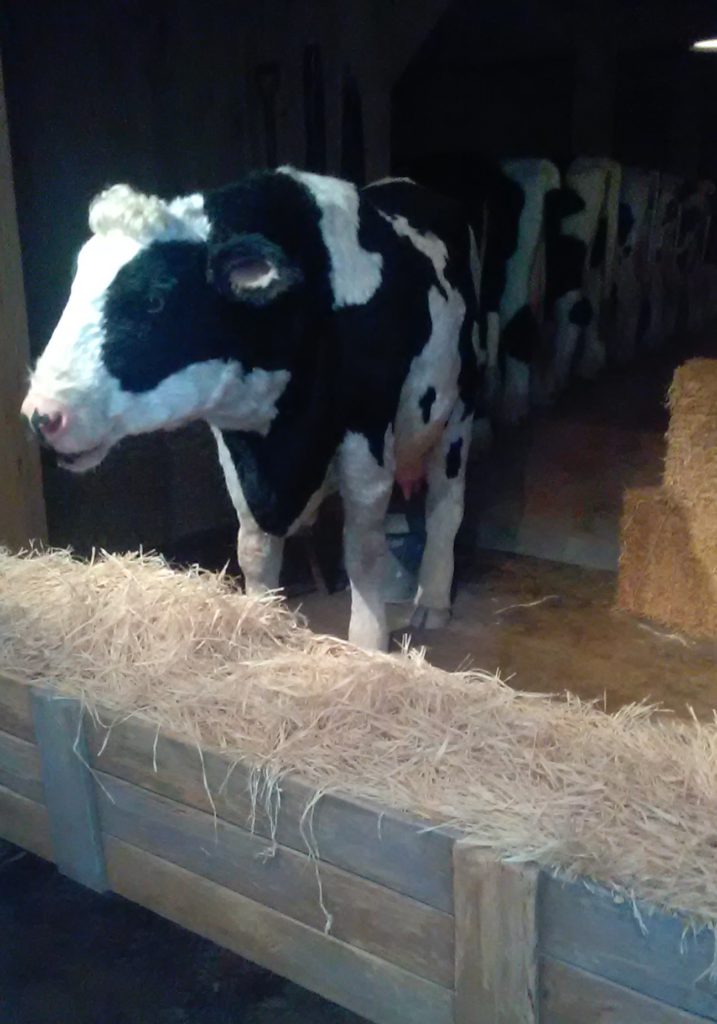 Each gallery is dedicated to a specific part of Billy's life (his marriage to Ruth, his early ministry years, etc.). They were all really interesting. As we went along we would answer questions on our card as they came up. I knew the gift wouldn't be anything fancy, it was just fun looking for the answers in each gallery.
Graham Family Homeplace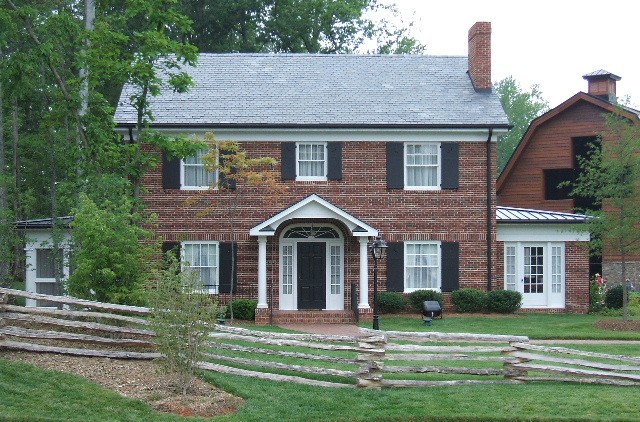 The house on the property is the one Billy Graham lived in from the time he was nine years old until he left home. It was built by his father on the family's dairy farm, which was four miles from the current location.
I was told by a staff member in the house that it has been moved twice. I can't figure out how they moved it once, much less twice, but they did. It's a beautiful home but smaller inside then it looks on the outside. It has a lot of original artifacts too.
When you first walk in you are standing in the living room. From there you can see the dining room, which is roped off. Then you walk into another room, which leads to an office which is also roped off. If you walk to the other side of that room you can see the kitchen, also roped off. The upstairs is closed off. You can see all there is to see in five or ten minutes easy. It's all decorated in the time period in which Billy grew up. It was fun to imagine what life must have been like for them back then.
Graham Brothers Dairy Bar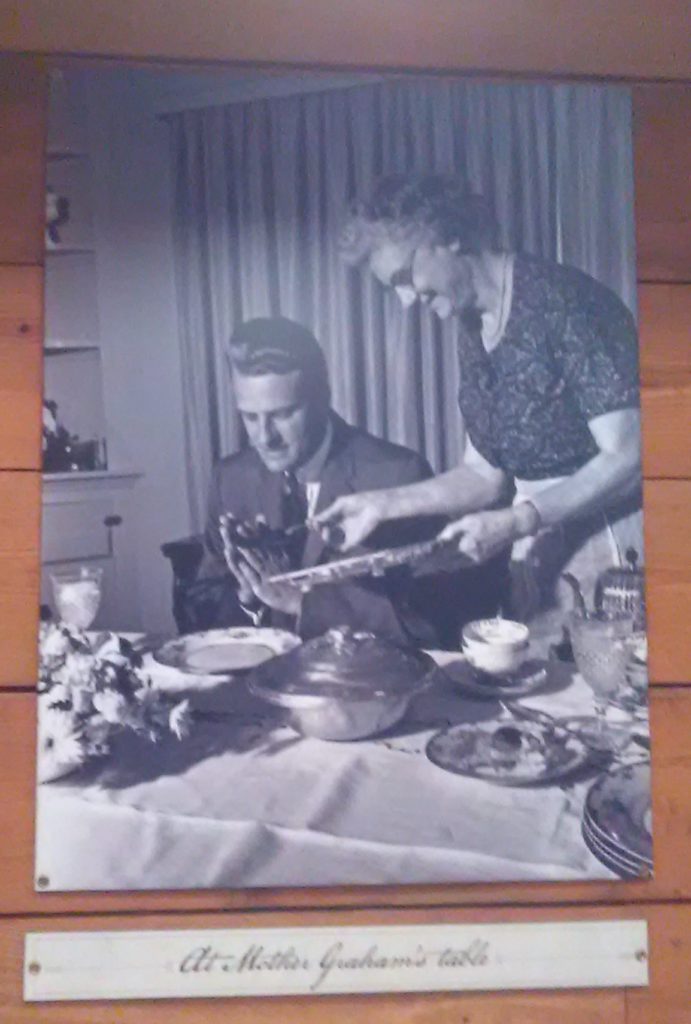 We decided to have lunch at Graham Brothers Dairy Bar after the tour. It's not really anything fancy, just sandwiches, chips, salads, hot dogs and things like that. I had a barbecue sandwich and it was pretty good!
The picture above of Billy Graham at his mother's dinner table was hanging up close to our table. I loved it so much I had to get a picture of it.
Some food is named after members of the Graham family (like the Billy Frank hot dog). Katie said they should have graham crackers there. I agree and that would have been pretty funny!
Memorial Prayer Garden
When you leave the library there is a sidewalk to the left which leads to a quiet, peaceful place. This is the prayer garden and also the final resting place of Billy and Ruth Graham.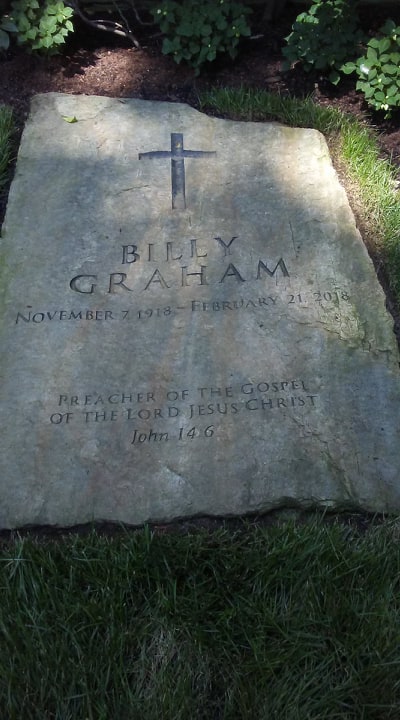 Billy and Ruth Graham were married 64 years. I remember seeing an interview with him where he said he missed her and was ready to be with her. How happy they must be to be together, never to be separated again. I love what's written on her headstone: "End of construction, thank you for your patience."
Conclusion
We had a great time at the Billy Graham Library. I would highly recommend it to anyone visiting Charlotte. The Journey of Faith tour took about an hour and a half (and our gift for filling out the card was a journey of faith bracelet). We filled out a first-time visitor card and dropped it off at the desk on our way out. They gave us a free tote bag and free book by Billy Graham called The Secret of Happiness.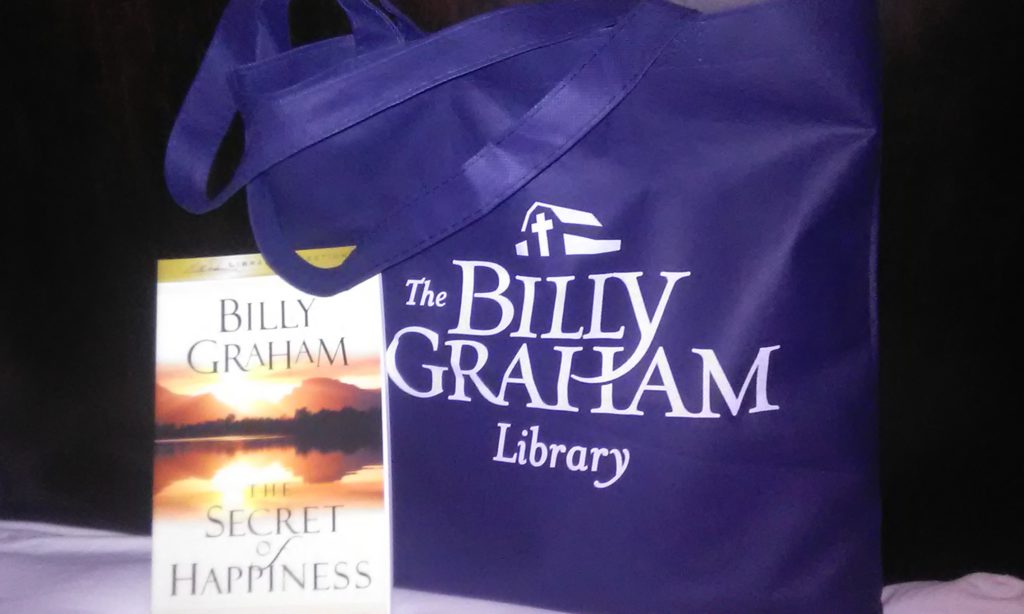 Everywhere you go in the building there are family pictures or scriptures, even the restrooms. I kept stopping to look at pictures, so it took a long time just to get out the door! If it had been a cooler day and we had more time, I would have liked walking along one of the trails they have out there. The property is absolutely beautiful. Here is some information to help you if you are planning a visit.
Address: 4330 Westmont Dr. Charlotte, NC 28217
Hours: Mon-Sat 9:30AM – 5:00PM (last tour of the day starts at 3:30PM)
Website: https://billygrahamlibrary.org/
Admission: FREE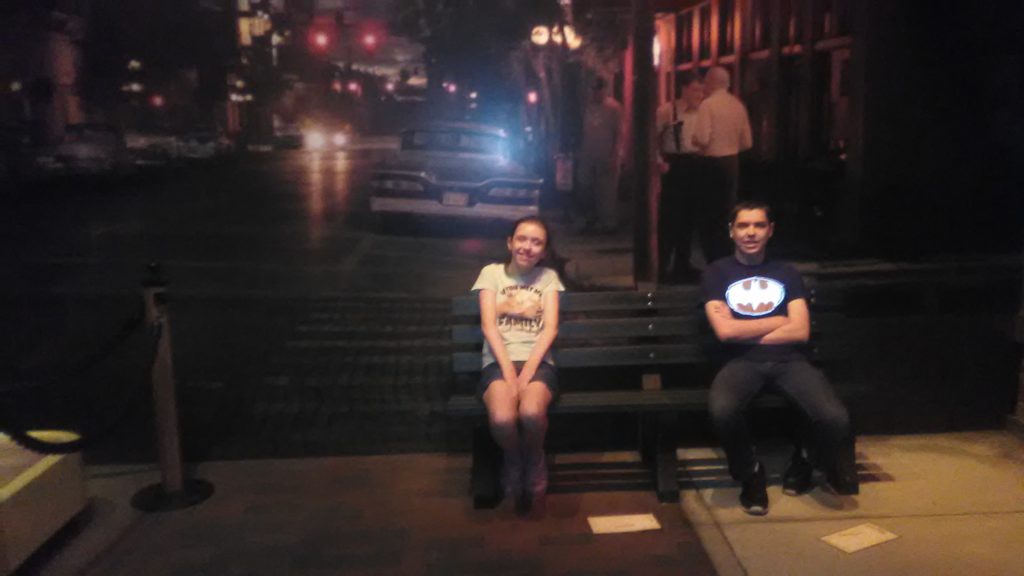 We want to thank all of you that are following along with our blog and commenting. It makes us feel more connected and less like we're just out here on the road by ourselves.
We've enjoyed three days in North Carolina, but it's not over yet!
Next stop, Mayberry (Mount Airy)!