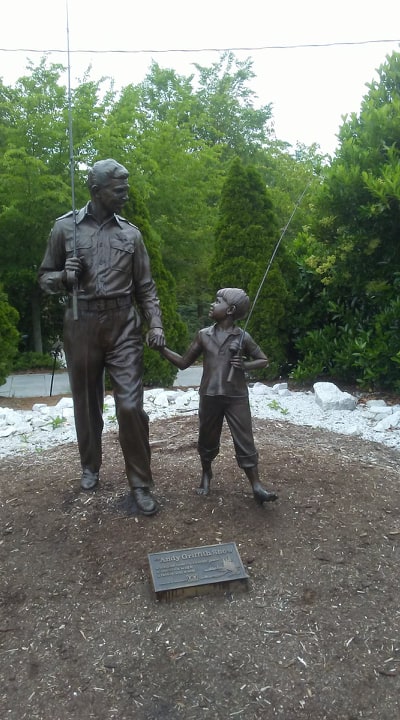 This past Tuesday we checked into our hotel in Elkin, NC. The next morning after breakfast we drove to Mount Airy, which is about 20 miles north. We were there most of the day. Mount Airy is the hometown of Andy Griffith and the inspiration for Mayberry.
If you are a fan of the Andy Griffith Show, you absolutely must pay a visit at least once. I loved the laid-back feeling of this small town and everyone we met was friendly. The show wasn't filmed here but a lot of street names, businesses and landmarks mentioned in the show were taken directly from Mount Airy.
Andy Griffith Museum
Our first stop was the Andy Griffith Museum. It's not very big but there is a lot to see. It covers all the important parts of Andy Griffith's life, from his childhood to his early career to the Andy Griffith Show, Matlock and his final years.
Televisions on the wall continually play clips from his TV shows and movies. Display cases hold all kinds of interesting little things I never would have known (like food packaging from a chain of restaurants he owned in the late 60's/early 70's).
Admission to the museum also includes access to the following:
Siamese Twins Exhibit
Chang and Eng Bunker were a set of Siamese twins from the 19th century who lived in the Mount Airy area.
Betty Lynn Exhibit
Betty Lynn played Barney's girlfriend Thelma Lou on the Andy Griffith Show. Several years ago she decided to move to Mount Airy. She's in her 90s now and makes monthly appearances at the Andy Griffith Museum (we missed seeing her by five days!).
Unfortunately, we forgot to take a picture of the display but here is a picture of her from the show.
Mount Airy to Mayberry Exhibit
Mayberry Mural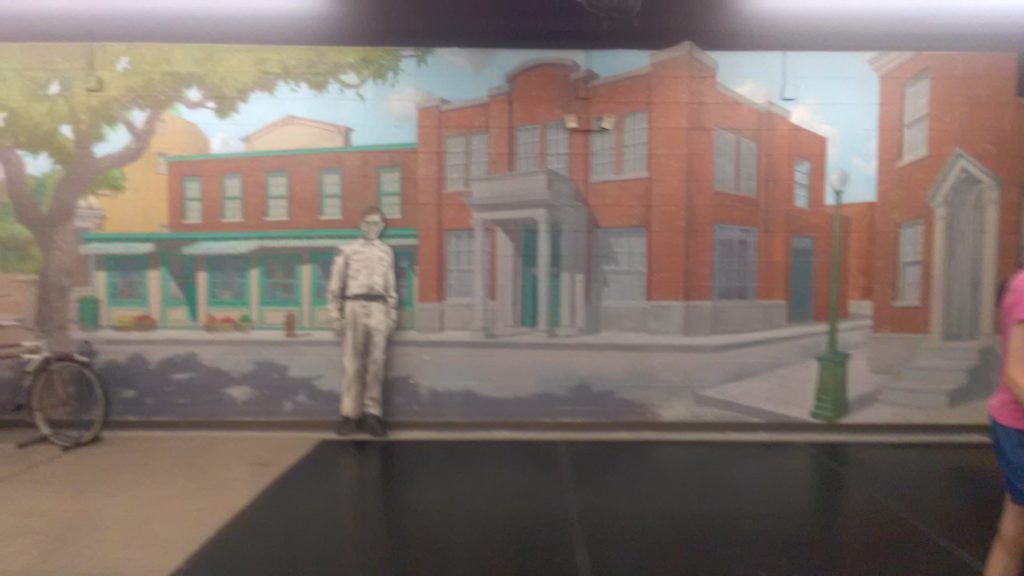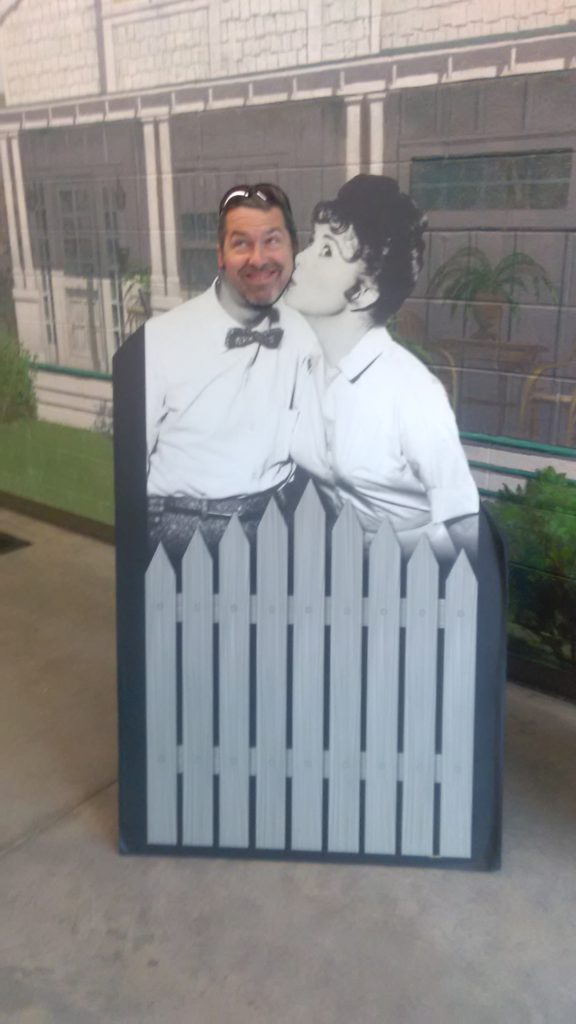 Main Street
We were getting hungry, so we decided to drive over to Snappy Lunch. It's a good thing we decided to go when we did too. We got there about 1:15pm and they close at 1:45pm!
Snappy Lunch was opened in 1923 in the same location it sits today. A young Andy Griffith would often go there for lunch because his school didn't have a cafeteria. Snappy Lunch is mentioned in an early episode of the Andy Griffith Show. It is the only Mount Airy business mentioned on the show that is still in existence. Anthony and I both tried the famous pork chop sandwich. We're not sure who it's famous with outside of the town but it was good!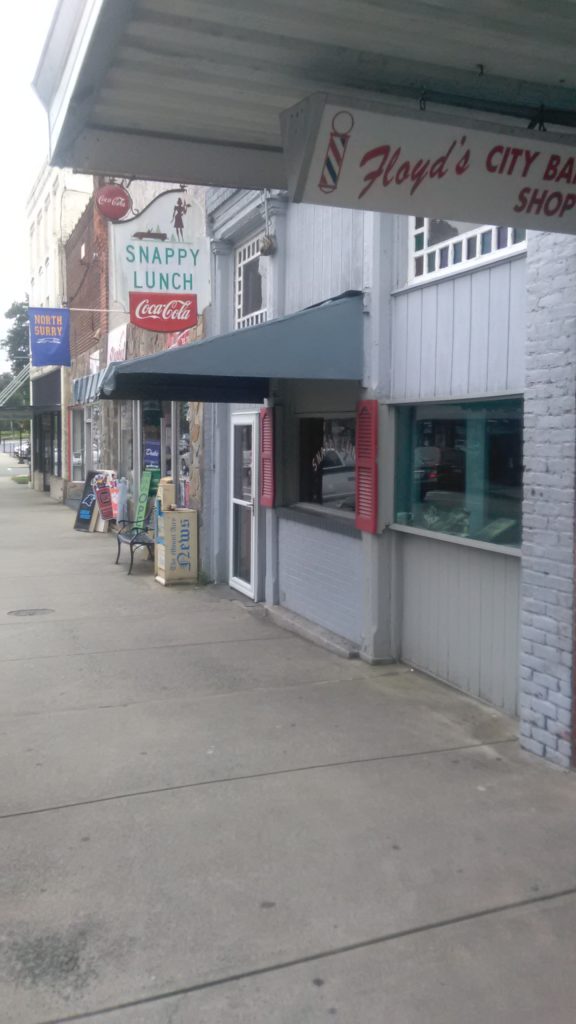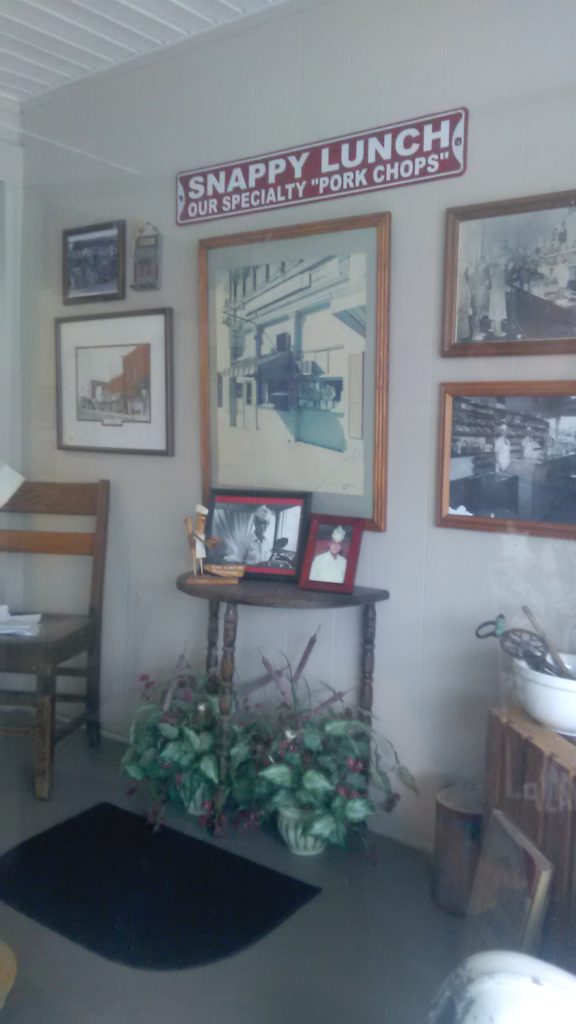 After lunch we spent some time looking at the shops along Main Street. Floyds Barber Shop is right next door to Snappy Lunch and Opie's Candy Store is next to that. There are a lot of gift shops, an ice cream shop, a pizza place, a theater and more.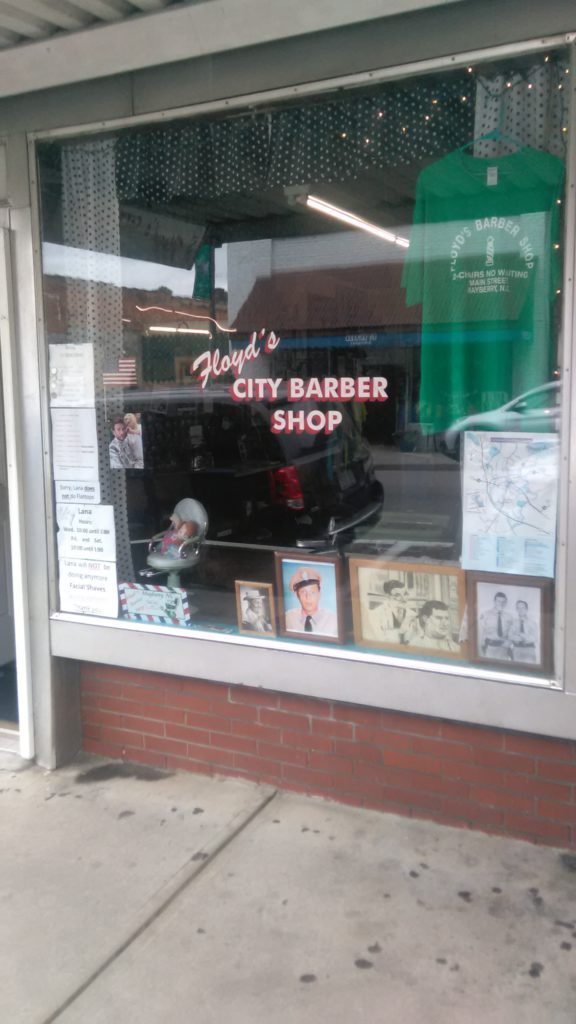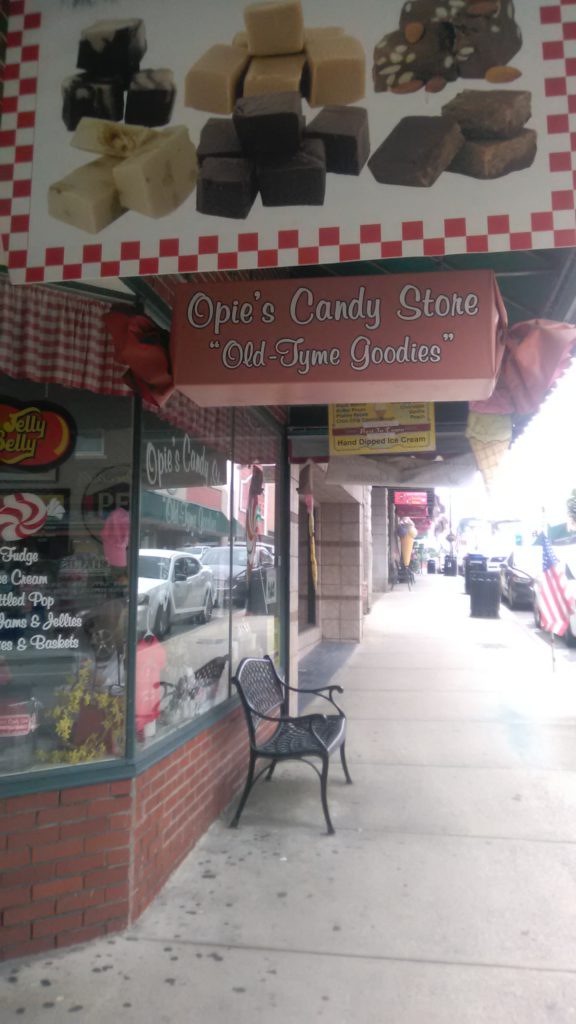 This is the first place we've been so far that we all bought souvenirs. I got an Aunt Bee measuring cup/coffee mug, Anthony and Joshua both got t-shirts and Katie got a stuffed dog wearing a Mayberry t-shirt (she named him Andy). I also bought a Mayberry tote bag because we needed something to carry all our new stuff in!
Courthouse, Hotel and Wally's Service Station
No visit is complete without a trip to jail! One mile or so east of the shops you will find the cutest replicas of the Mayberry Courthouse, Emmett's Fix-It shop, Mayberry Hotel and Wally's Service Station. Emmett's truck sits next to his shop, the Darling's truck is in front of the hotel and the squad car is in front of the service station (when it's not out giving a tour).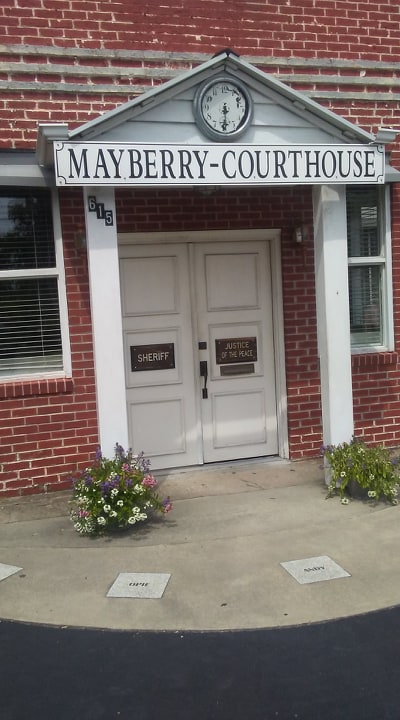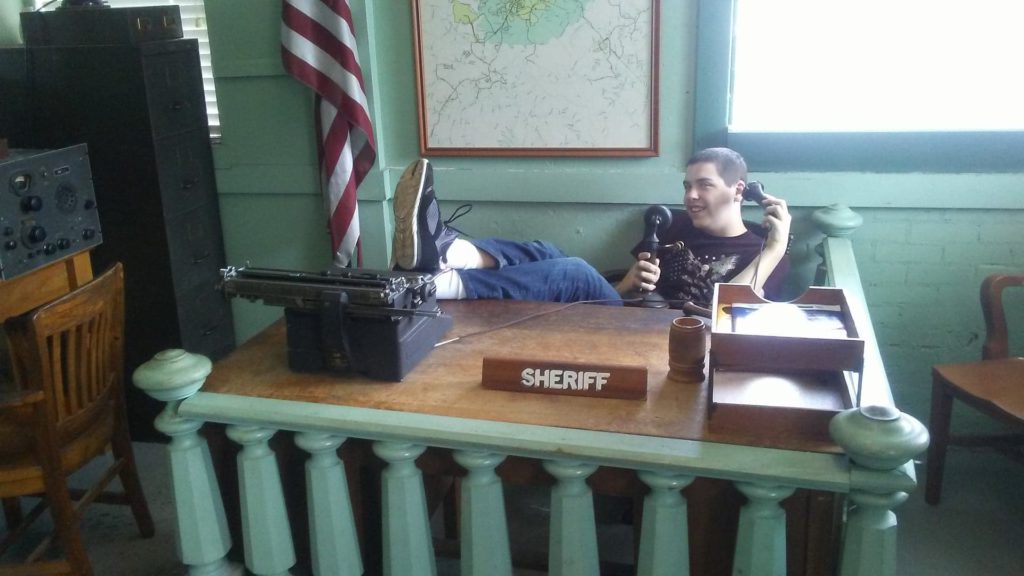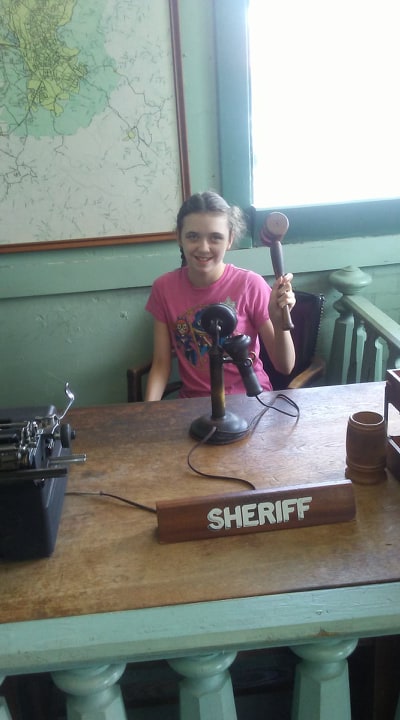 Andy Griffith's Childhood House
We drove by the childhood home of Andy Griffith. A local hotel now owns it and allows people to rent it by the night. We didn't stay long or get out of the car because a sign indicated it was currently occupied. It's neat to think about how the small town kid who grew up in this little house would grow up to be so famous. I guess you never really know where life will take you!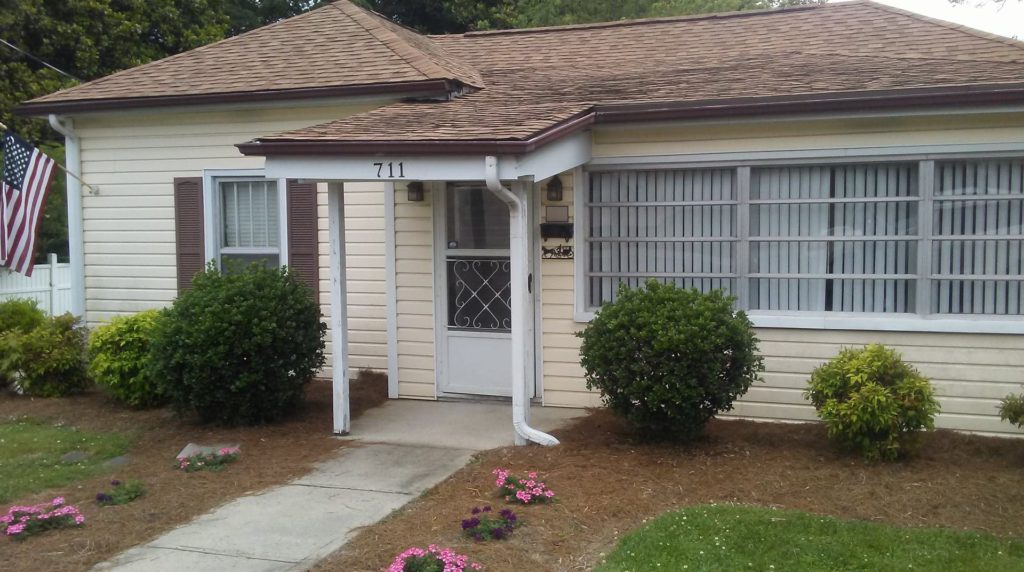 Aunt Bee's Room
Before we left town, we stopped by the Mayberry Motor Inn and asked to see Aunt Bee's room. A really nice man behind the desk walked us over and showed it to us. He explained that all the items in the room were the personal belongs of Francis Bavier (Aunt Bee). After she died the owner of the Inn began purchasing the items at auctions and estate sales (Francis Bavier never married or had children and left no heirs).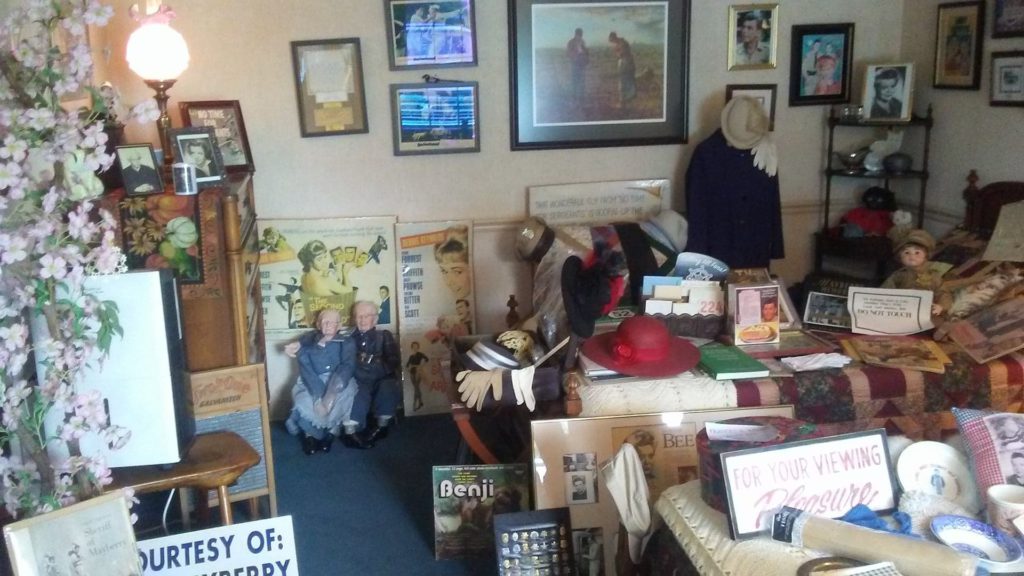 The squad car left the service shop before we got a picture. We were really surprised to see it a short time later in front of the Inn. We thought maybe they were looking at Aunt Bee's room but we didn't see them there. Later on we learned that another squad car sits in front of the Inn on a regular basis.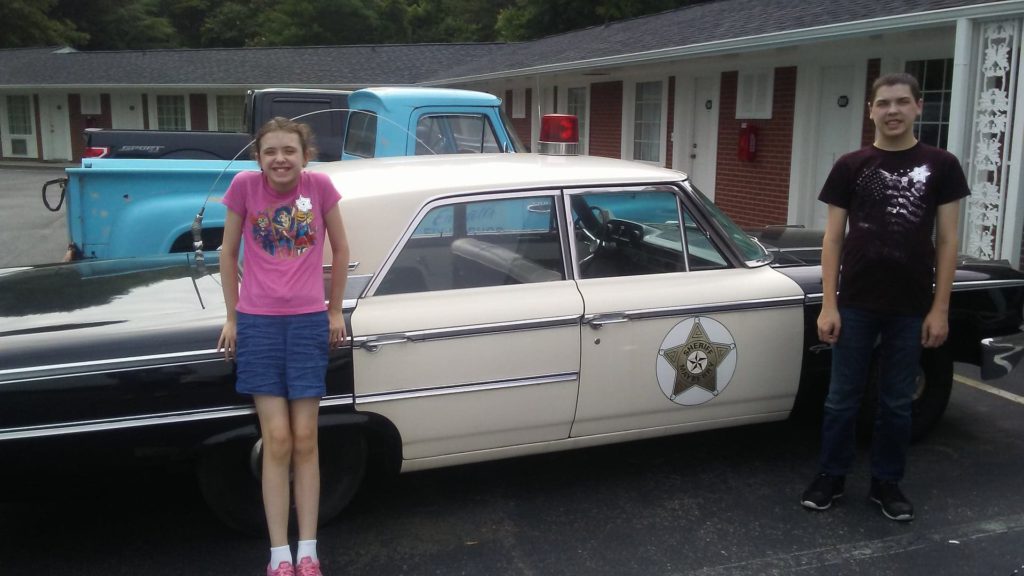 Have you been to Mount Airy? What was your experience like? If you plan to visit, there are several good options for lodging (including the one mentioned above). We stayed at the Fairfield Inn in Elkin, which was awesome! I highly recommend it. If you visit Mount Airy please come back and let us know what you thought!
After five total days in North Carolina, it was time to move on to Virginia and Tennessee! Talk to you soon!