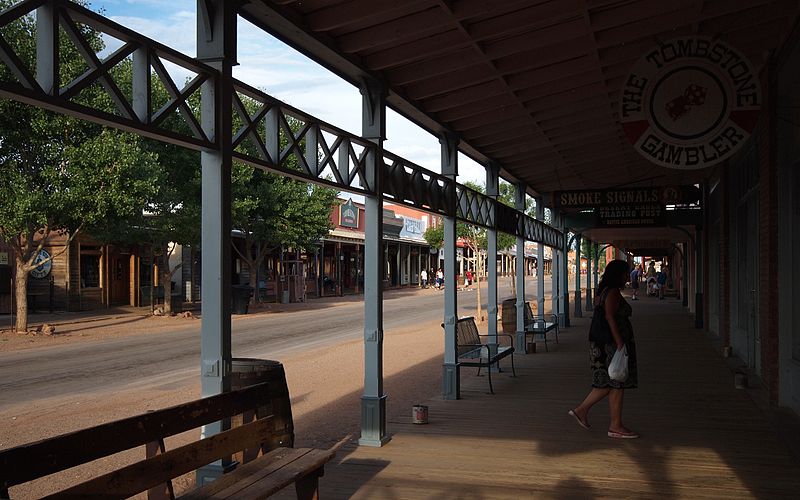 The heart of all the best Tombstone Arizona attractions are located in the famous historic district. This is where the stories of the legendary Wyatt Earp played out. But there is much more to this town of 1,500 than that, as we discovered one lovely February day.
Spontaneous side trips are one of my favorite things in the world. You know what I'm talking about. You're cruising along down the highway and see a big sign that captures your attention and you immediately know that if you don't stop you will regret it the rest of your life. Okay, maybe not the rest of your life but at least through breakfast the next morning. That's what happened when we were driving down I-10 West on our way to Phoenix, Arizona.
A sign indicating an approaching exit to the town of Tombstone caught our attention. We knew we had to stop, partly because we love historical things but mostly because Tombstone is my Dad's favorite movie of all time. He and Mom were dog sitting for us so the least we could do is get him a souvenir "Tombstone" coffee mug and Wyatt Earp t-shirt, right?
I thought it was going to be just off the highway, but that wasn't the case. From our exit it was about 30 more miles. I was starting to wonder if we had gotten lost. But then, there it was in all its historical, Wild West glory. And let me tell you, it was well worth stopping for.
                                                 History
Tombstone is so much more than just a Hollywood movie my Dad likes to quote lines from (how many family events have gone by where I have NOT heard "I'll be your huckleberry" at least once?). It's a real historical town and has been a national landmark since 1961. I was surprised to find people still live there today. Tombstone was founded in 1879 by a prospector named Ed Schieffelin. It is most known for the infamous 1881 "Gunfight at the O.K. Corral" between a group of lawmen (including the legendary Wyatt Earp and his friend Doc Holliday) and a group of outlaw cowboys who had committed a stagecoach robbery.
                                             Cemetery
Boot Hill Graveyard is a famous, historical cemetery. It opened in 1879 and had stopped accepting burials by 1885 but during that time over 200 people were laid to rest there. That really says something about the mortality rate of that time! Of course, a lot of them didn't exactly die of old age or from natural causes. We know this because the cause of death was often listed right on the stone. Take this poor guy for example.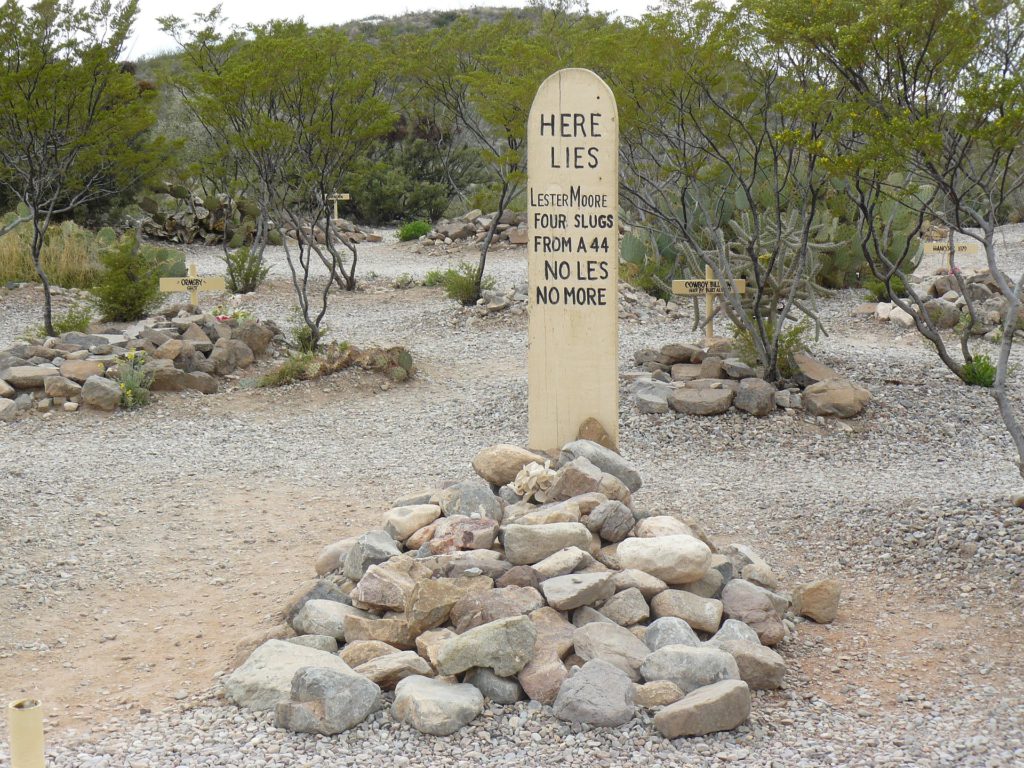 It was a pretty rough time period to live in. The name comes from the fact that a lot of men died "with their boots on". The three outlaw cowboys (Tom McLaury, Frank McLaury and Billy Clanton) who were killed during the O.K Corral shootout are also buried there. I can only assume they too died with their boots on.
                                     Tombstone Courthouse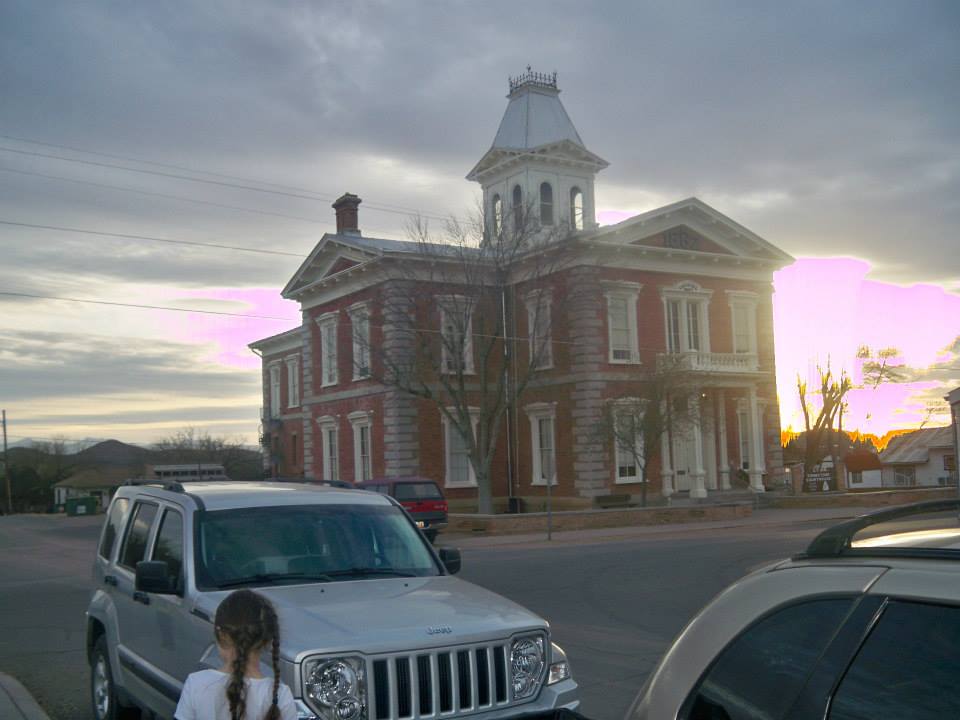 After we found a place to park this was the first place we walked over to. This also ended up being where we spent most of our time. The courthouse was first built in 1882, tried and failed to become a hotel in the 1940's, was restored and opened to the public in the 1950's and is now a museum. The only thing better than a beautiful, historic building is a beautiful, historic building full of authentic 19th century memorabilia and exhibits.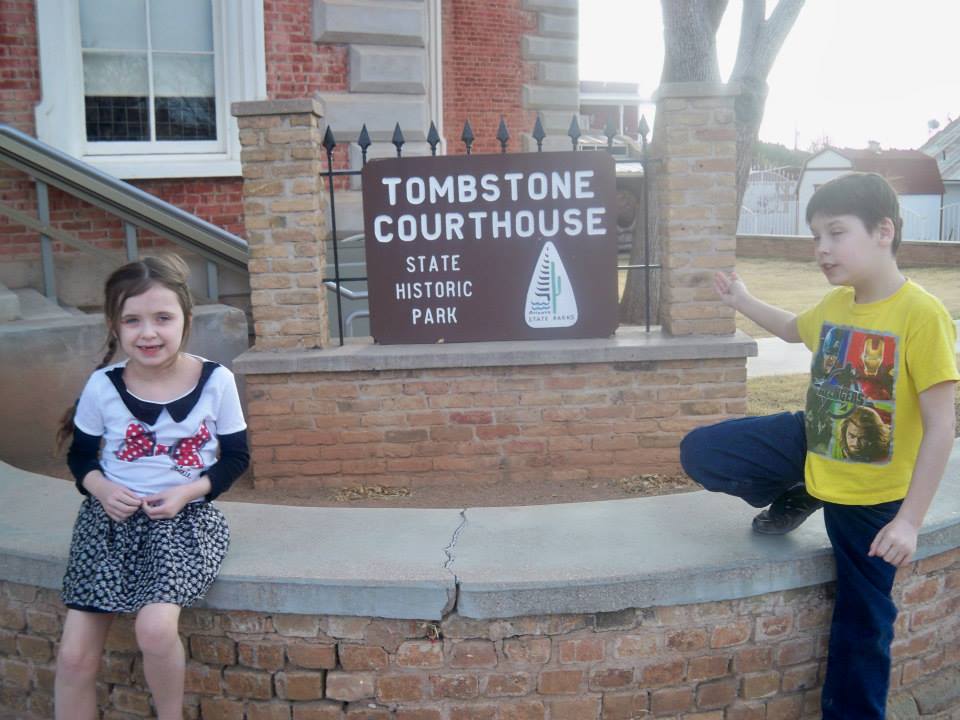 Here is some more information on the Tombstone Courthouse if you are planning a visit:
Hours: 9:00 AM – 5:00 PM Daily (closed on Christmas)
Amenities: The museum has a gift shop and nice, clean restrooms that are, thankfully, not from the 19th century. There are also shaded and unshaded tables outside that are a perfect spot for a picnic.
For more information visit https://azstateparks.com/tombstone
                                              Shopping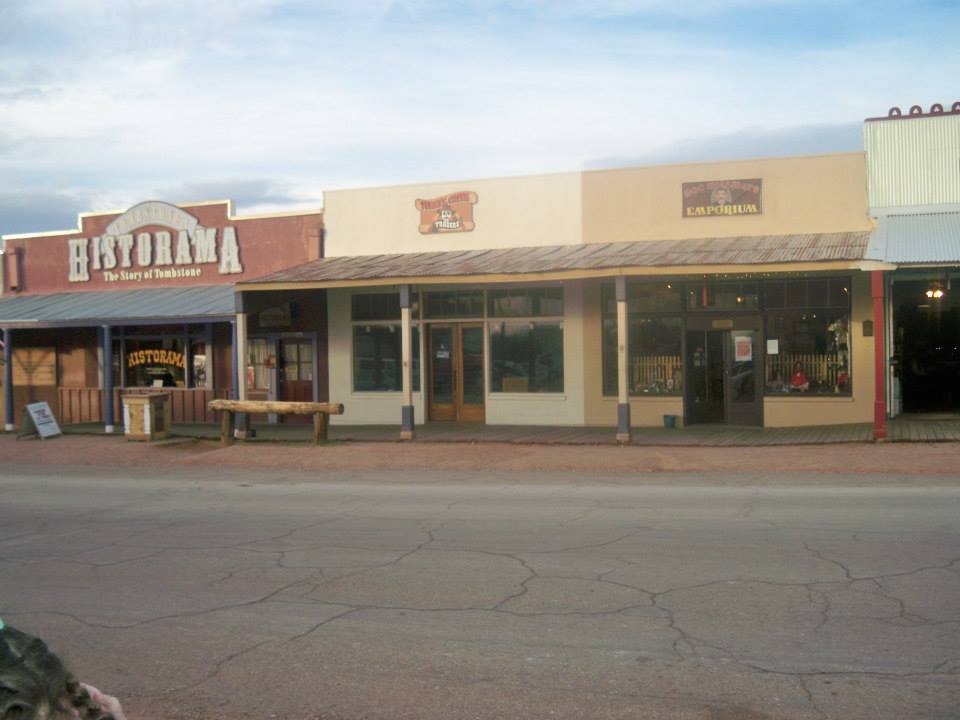 We never left the Historic District, so I can only speak of the stores we visited on Main Street. They were some of the cutest little shops full of all the touristy things like keychains, bumper stickers and fake license plates you can buy with your name on it. But there was also some really nice things like reproductions of real 1880's clothing and a lot of merchandise with famous quotes from the movie. There was so much to look at I only regret not being able to stay longer (Anthony, however, was more relieved than regretful).  But it worked out and my Dad is now the proud owner of more things that say "I'll be your huckleberry" on it than he probably ever planned to be.
                           Gunfight At The O.K. Corral
It was a little alarming to walk out of one of the shops to see two men dressed like cowboys in the middle of the street pointing guns at each other. But judging by the crowd of people in modern day clothes snapping pictures, it was safe to say we had happened upon a reenactment of the Shooting at the O.K. Corral and not something that was going to require police involvement.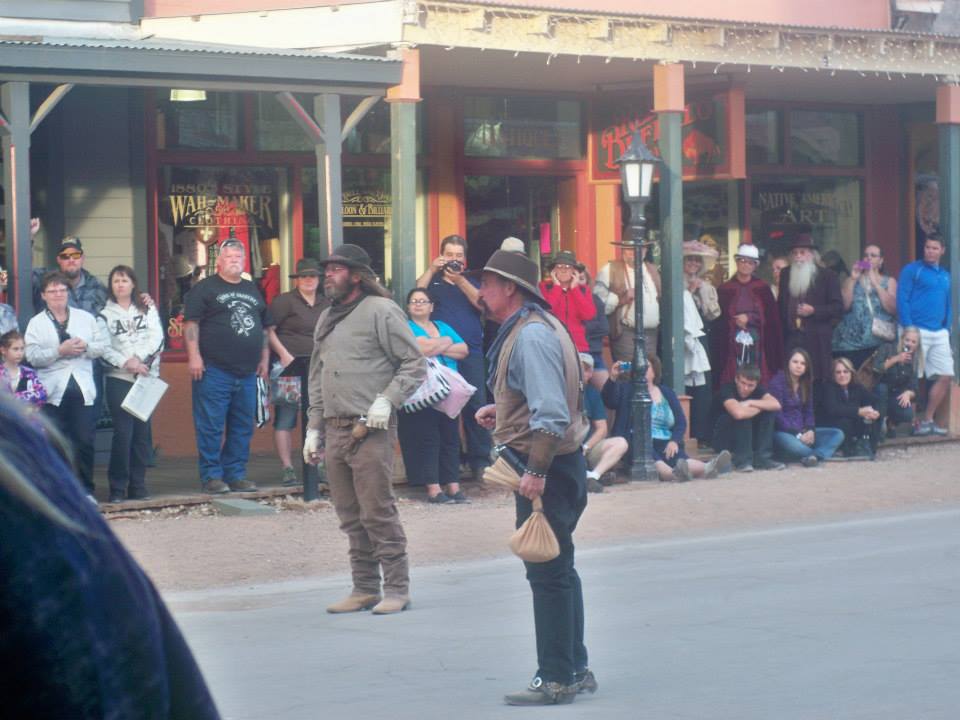 Conclusion
For being such a small town, there is a lot to do here, more than we were even able to get to. We are currently trying to figure out a good time to go back and bring Dad along. When we do I'll post an update!
I have a confession to make. I've never sat through the entire Tombstone movie and westerns aren't really "my thing". But even I loved this place! They have done an amazing job making it look just like you stepped back to the 1880's. Well, except for the people walking around in Arizona Cardinals t-shirts and caps but nothing can be done about that.
Have you been to Tombstone? What was your visit like? Planning a trip in the future? We would love to hear your stories.