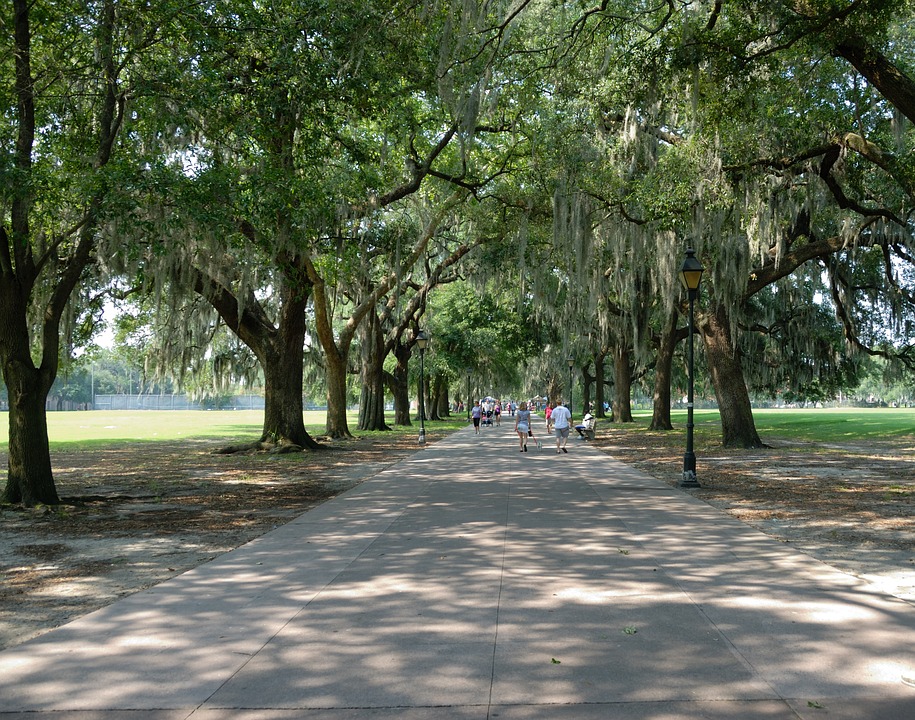 I've been trying to get to Savannah, Georgia for about ten years. Wow that drive from Texas was longer than I thought. Seriously though, it's been a dream for a long time that just never worked out…until last week. After spending a few days visiting Anthony's family in Forsyth, we made the three-hour drive to this famous city.
It wasn't exactly the way I had always pictured it (isn't that always the case though?) but we were not disappointed. The area where our hotel was looked like any other city in any other state. It wasn't a bad area at all, just not that exciting looking. It was when we went down to the historic district that the magic happened. That's when I realized what sets Savannah apart from the rest. If you're considering a road trip to Savannah, GA keep reading. This really is a beautiful city that has a lot to offer!
Savannah Walking Tours (free…sort of)
Because we're going to so many places, it's important that we stick to our budget. That means we try to find as many free or inexpensive things to do as we can, without compromising fun. For that reason and because I'm on this campaign to walk as much as possible, an advertisement for a free walking tour got my attention (they just ask that you tip your tour guide).
The image I had in my head of being able to walk places from our hotel went out the window pretty quick when we learned the tour started 13 miles away at Jackson Square. That also meant parking, which I heard can be atrocious. After doing some research I discovered we can just use one of the parking garages that cost $1.00 an hour (there is free parking on weekends, but we were there on a Wednesday).
I made the reservations online and it asked us to pay almost $3.00 each in taxes, so even besides the tip it was never really going to be free. It was only $12.00 though so we thought why not? It's still way cheaper than a trolley and we didn't want to try a do it yourself tour (aka wander around and get stressed out attempting to find things). We were told to meet our tour guide at 10:30am in Jackson Square.
We got up that morning, enjoyed our free hotel breakfast, and left about 9:30am. We wanted to give ourselves plenty of time to drive out there, park and walk to Jackson Square. We used the Bryan Street Parking Garage which fortunately was not too crowded. Then we used the GPS on my phone to direct us to Jackson Square, where we arrived in plenty of time for our tour to begin.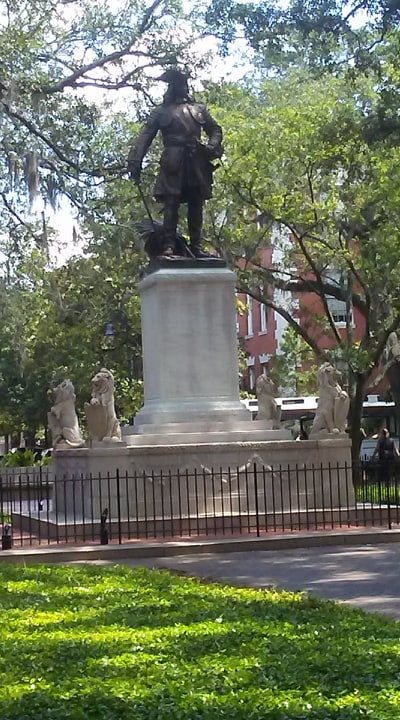 The rest of this blog will cover some highlights of our tour. If you plan to visit Savannah and want to take a walking tour here is the group we used and were very happy with. https://freesavannahtours.com/
History
I don't know if I mentioned it before but we're currently "road schooling" our kids. History is one of my favorite subjects so being able to immerse the kids in it hands on just excites me to no end.
Before the walking part of our tour even started our guide gave us a brief lesson on the history of Savannah and the entire state of Georgia. It was so interesting! For example, I never knew that the colony of Georgia began as an agreement between James Oglethorpe and King George to resettle debtors there rather than put them in debtors prison.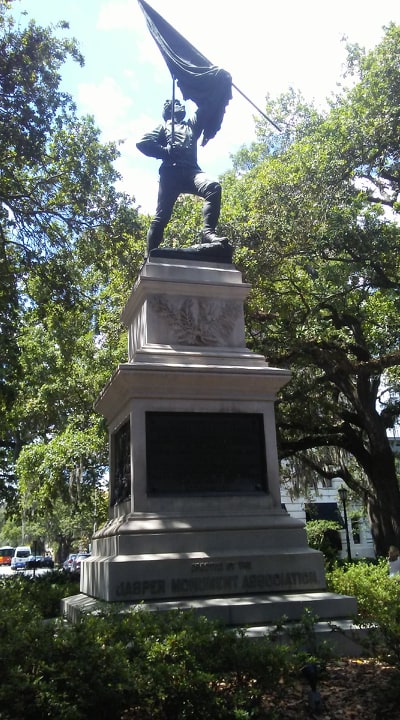 Movies
What do Forrest Gump and SpongeBob have in common? Both have movies filmed in part in Savannah. A lot of movies have been filmed there. In fact, our guide told us they once had six movies being filmed all at once. That also means a lot of road closures. We were sure glad we didn't try to come when that was going on.
Chippewa Square is the setting of Forrest Gump's iconic bus stop scenes. If you didn't know what you were looking at you would miss it because it looks nothing like a bus stop. The bench where he sat telling people the events of the movie was a prop which was removed a long time ago because people kept vandalizing it. It now sits in the Savannah History Museum. However, the spot where the bench was is now covered with shrubs and a sign in front of it indicates that is the spot where it was filmed.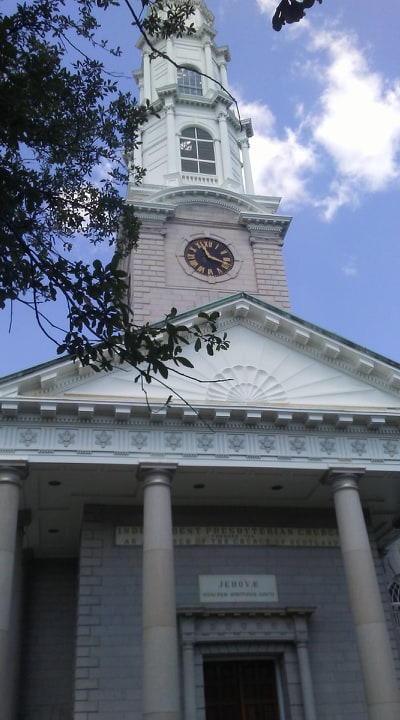 The Independent Presbyterian Church is a big, beautiful building nearby that can be seen in the opening of Forrest Gump. The feather slowly drifts past it and eventually lands in front of Forrest, who is sitting on his bench. You can see the entire opening in the video below.
We saw the street where a small part of the un-animated portions of the movie SpongeBob Sponge Out of Water was filmed (you can see a short clip of the filming below). After our tour we went back and used this video to try to find that part of the street. We never really figured it out but that's okay.
One fun fact we learned was the movie makers asked if they could paint the buildings in the fun, silly SpongeBob colors. The city said yes as long as they repainted them again afterwards. Everyone was happy, including the store owners who got a free paint job!
Houses
There are a lot of famous houses here, many of which you can take tours of if you choose. We were content to just see them from the outside and hear stories about them. Here are some ones that stood out to us the most.
Juliette Gordon Low Birthplace
Each Spring (we were told) the city of Savannah becomes a sea of little green sashes as Girl Scouts come to pay their regards to their founder, Juliette Gordon Low. This is her birthplace. I thought we got a picture of this house but apparently not so the credit for this goes to Billy Hathorn.
Mercer House
This was the home of Jim Williams, the only person in Georgia to ever be tried four times for the same crime (murder). The story was re-told in the book Midnight of the Garden of Good and Evil by John Berendt which later was turned into a movie.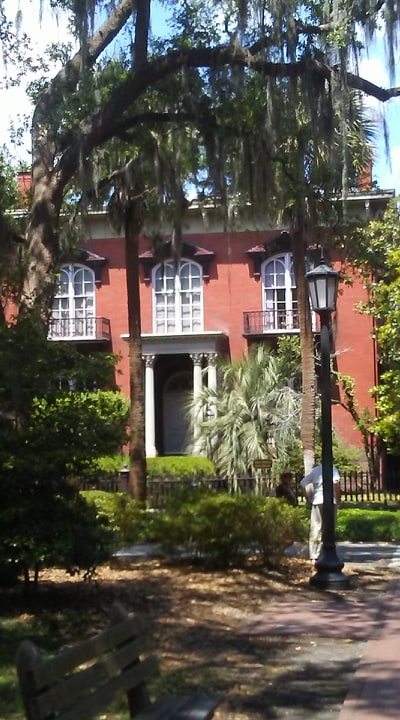 This isn't a house you can tour but I wanted to include it because there is a funny story about it. During the filming of Forrest Gump, Tom Hanks liked to get up early in the morning before filming and walk around. One morning he saw a newspaper on the steps of this house and sat down and started reading it.
When an old woman opened the door, he stood up, handed her the paper and said, "Good morning, I'm Tom Hanks, here is your newspaper." She got angry and said "I don't care who you are young man. If you don't get off my front steps right now I'm calling the police!". He left and she never even knew who he was.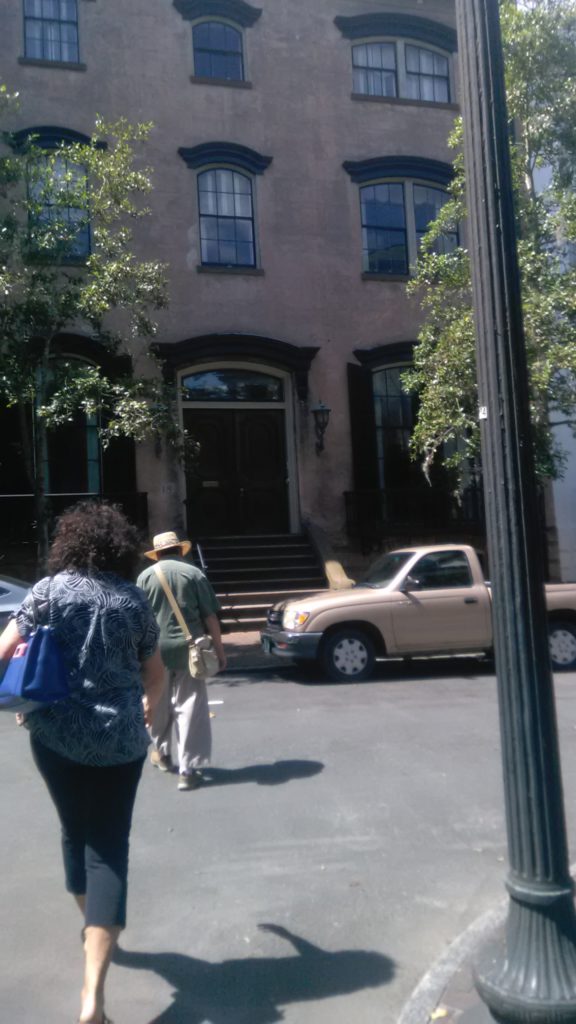 Forsyth Park
This 30-acre park says everything about this charming, Southern city. Big beautiful oak trees draped with Spanish Moss and providing lots of shade, grassy fields, a beautiful old fountain, a street performer nearby playing his trumpet, a couple sitting on a bench looking in each others eyes, people pushing baby strollers or walking dogs. It's a beautiful, peaceful place (at least it is at noon on a Wednesday, when we saw it).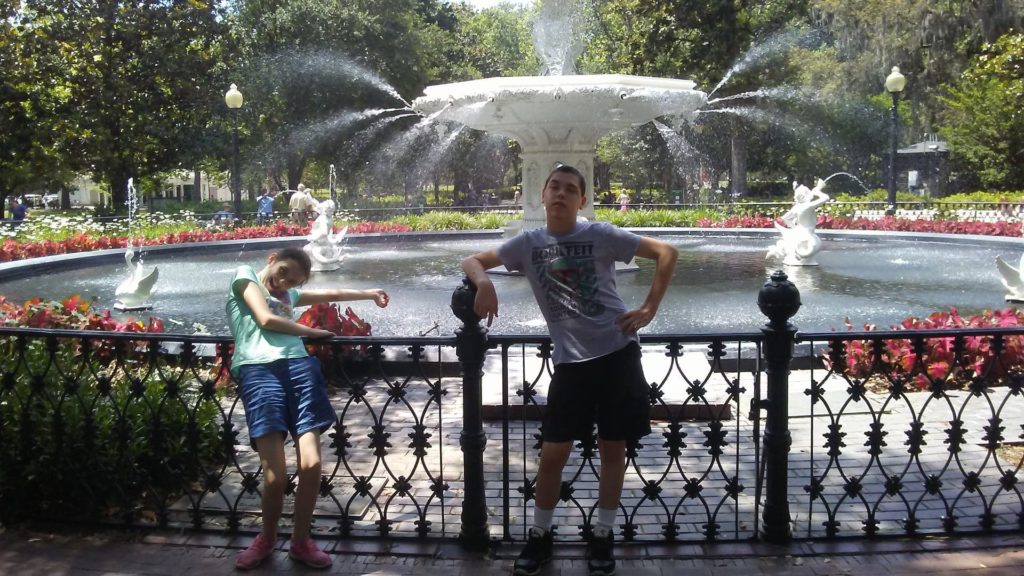 Southern Hospitality
We noticed that people were really friendly and warm in Savannah. A few times people would just be sitting on a bench and would smile at us and say, "how are you doing today?" as we walked by. Then when we were standing on a sidewalk looking at a video of the above SpongeBob movie clip on Anthony's phone, people kept stopping to ask us if we needed help with directions. I loved it!
Goodbye Sweet Georgia (for now)
After the tour taxes, tip and $5.00 for parking we ended up spending about $40.00 for our "free" walking tour (not including stopping for lunch). You know what though? We were okay with that. We enjoyed our time so much it was totally worth it to us. When you consider that only comes out to about $10 dollars for each person, it was a good deal. We learned so much and had so much fun. I can't imagine trying to do that on our own. Plus, bonus, we got a lot of exercise!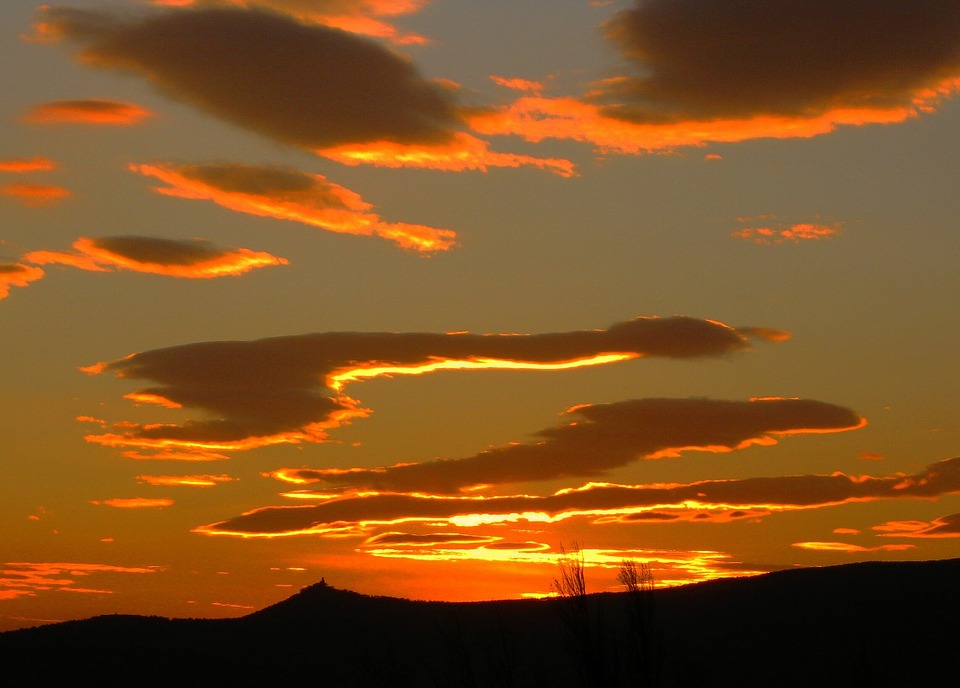 Before we knew it our time with Savannah ended and it was time for a quick stop at our next destination, Charleston SC.
Have you ever been to Savannah? What did you enjoy the most? If you're planning a visit in the future and have any questions feel free to let us know!