For 24 days each fall, Fair Park in Dallas is the sight of the State Fair of Texas. In 2019, it will be held from Sat Sep 28th to Sunday Oct 20th. If you live in the DFW Metroplex like we do, it doesn't take a big road trip to get there. But of the close to two million people who visit each year, many of them come from other areas of Texas or even other states.
Our family has been going to the State Fair every year since the kids were very small. It is a very special tradition for us. Here are some things to expect if you are planning a visit for the first time.
Getting In
The first thing we do is go to McDonalds and get discount coupons. We've saved a lot of money this way. And almost every time, we will go to the McDonalds right across the street from Fair Park because we put off getting them so long that it's the only one we can find that has any left. Don't be us, do this in advance and save yourself a lot of hassle. Here are some additional ways to get discounts:
Order online: You will save around $1.50 per ticket by ordering online in advance. Might not seem like much, but it adds up when you are buying for multiple people. Plus it will save you from having to stand in line at the gate.
Kroger Grocery Stores: Coupons can be found at the service desk or checkout counter (if you don't wait until the last minute).
Dr. Pepper Can: Bring an empty can after 5:00pm and enjoy half price admission.
For more information on discounts visit the official State Fair of Texas website at https://bigtex.com/discounts/
With coupons in hand, we will go find a place to park. There are businesses and residents in the neighborhood who offer paid parking on their lots, but we prefer parking inside the fair gates. A fair amount of patience is required here. A lot of times the gates will be filled up and you will just have to keep driving around until you find one open. It's not unusual for us to end up having to drive around in a circle a few times. We go on a weekend, but I imagine the parking situation is somewhat easier on a weekday.
It cost $15.00 to park, which we always pay at the gate. But you can also purchase parking passes online or at Kroger Grocery Stores. Then depending on where you parked, you will either have to walk to the gate or take one of the trolleys.
Big Tex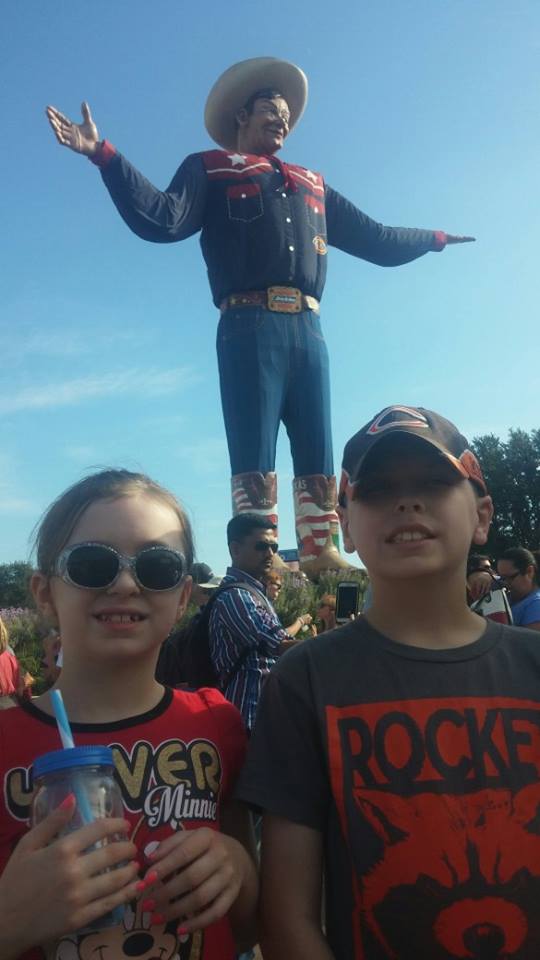 This big guy is one of our most treasured icons in Texas. When Katie was in preschool she was terrified of him, and heaven forbid he start talking or waving his hand when she was in the vicinity. She laughs about this now that's she older, but I can only imagine how a 55-foot giant looks when you're only 40 inches tall.
On the last weekend of the 2012 fair, an electrical fire destroyed Big Tex in front of hundreds of fair attendees. This happened to occur the day AFTER we were there, thankfully, so we didn't have a traumatized child on our hands. No one was hurt but Big Tex, but it was a sad day losing this beloved 60-year-old mascot.
But you can't keep a good giant statue down for long. Due to a ton of hard work by a lot of people, Big Tex (a re-created version) was back in his spot in time for the 2013 fair. Be sure to stop by so he can say "howdy" to ya!
Fried Everything
The food here is legendary and of course about as unhealthy as you can get. But I'm not your mother and if you want that fried butter I won't judge. We tend to lean towards the more classic and traditional fair foods like Fletcher's Corn Dogs and Funnel Cakes (don't judge). But there are almost endless things to choose from. Make sure you buy enough food coupons to cover all your food and drinks as none of the booths take cash (coupon booths are everywhere).
Given there are so many options, if you have dietary restrictions you should be able to find something. I would suggest you do a lot of research before you go, but here are a few ideas:
Low Carb: Try the turkey legs or sausage on a stick
Vegetarian: Try the Fletcher's Veggie Corn Dog, salads, or something from the endless sea of desserts
Vegan: This might be a little tougher, but not impossible. Roasted corn, fruit and spinach quesadillas are a few options.
They also allow you to bring your own food, but check their website for any restrictions they might have. The food can be expensive, so we always plan to just eat dinner and one snack each at the fair. We eat a big meal before we arrive so we don't eat any fair food until much later in the day.
Shows and Petting Zoo
When you come in the gate you will receive a booklet that lists all the events. Our favorites are the animal shows in the Pan Am Arena. We've seen horse shows, dog shows, pig shows, and even ostrich shows. These shows are top-notch.
There is also a petting zoo right around the corner from the Pan Am Arena. There used to be a giraffe there but I haven't seen him the last couple of years. He was always so hard to get to because a crowd of people would be in front of his stall clamoring to feed him. The last time we saw him we actually got to get right in front of his stall, but he kept his head turned and refused to look at us. It was the last day of the fair so we decided he was probably sick and tired of seeing humans and left him alone.
Evenings
Concerts: Each night of the fair features music on the Chevy Main Stage. We've enjoyed some of these for the last several years. And if you aren't actually "attending" the concert you can still hear it from a good distance. Since we love music, and they always have great line-ups, we enjoy this aspect of the fair a lot. There is also a parade and a fireworks show because we like to do things big in Texas.
Midway: Before you carry your (possibly tired) feet out of the gate, to the trolley, and back to your vehicle make sure you spend a little time enjoying the games and rides in the Midway. And who knows, maybe you will win a giant banana like my sister (pictured below with her husband).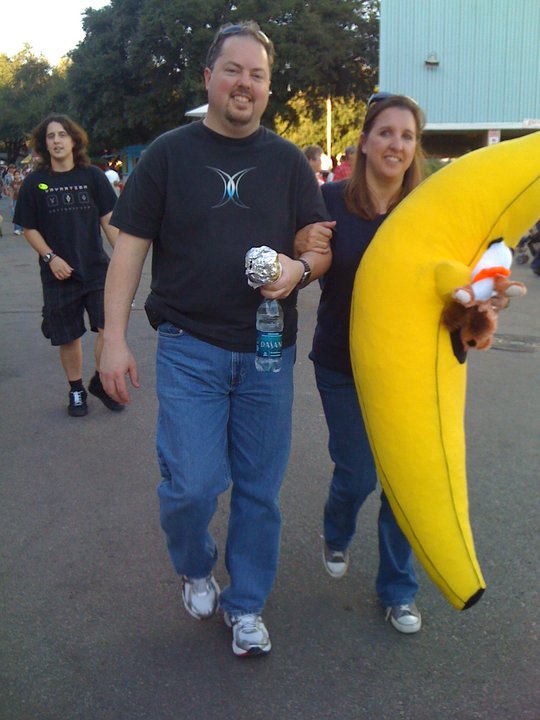 Please feel free to comment below on your own experience attending the great State Fair of Texas. Or if you would like to recommend the fair in your own state we always love finding new places to visit! Have Fun!