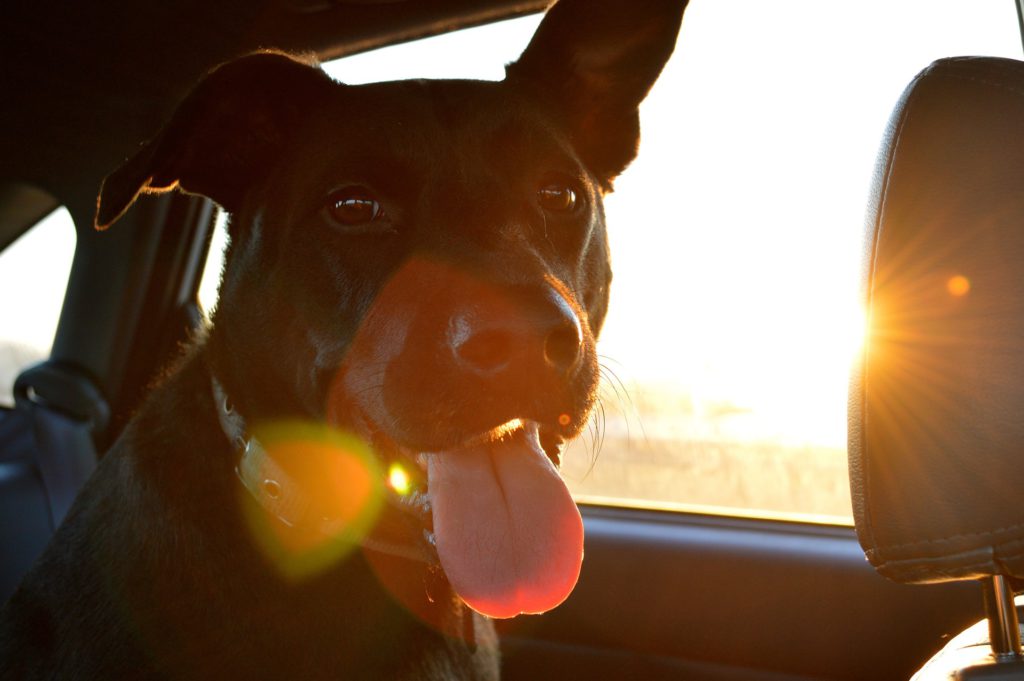 Dogs are such great companions at home as well as on the road. But like everything a little planning can go a long way towards making sure you both have a good, safe time on your travels. If you're wondering how to road trip with a dog these four tips will help make everything go smoothly.
For the sake of simplicity I refer to your dog as "him" throughout this article. I know girl dogs go on road trips too. I'm not practicing dog sexism. It's just easier to stick to one pronoun than writing "him or her", "her or him" a bunch of times.
1. If  You Stick Your Head Out Too Far…
My Grandmother had a saying for when we would stick our arms out of the car window while she was driving:
"If you stick your arm out too far, it will go home in another car."
None of us really believed our arm would detach from our bodies and go live with someone else, but her point was made. Don't do it. You could get hurt. The same goes for your dog sticking his head out of the window. Sure those floppy ears and wet tongue hanging in the breeze look cute, but he could get hurt. Don't let him do that when the car is in motion. Here are some more safety tips for taking a road trip with your dog.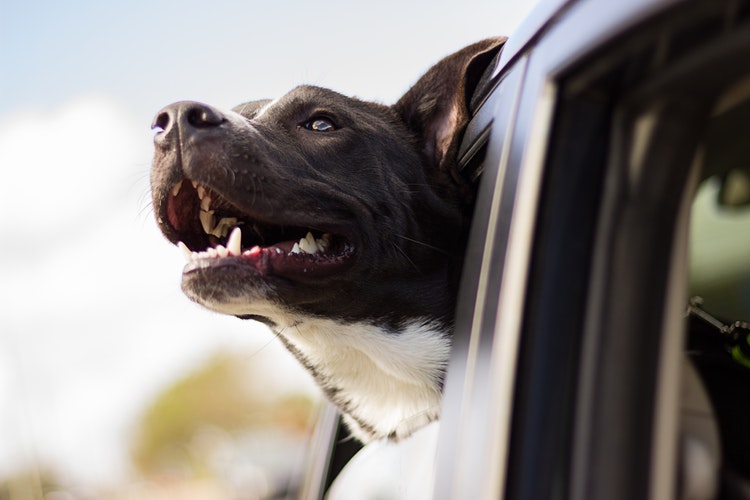 Don't let your dog wander around the car (and don't let him sit in your lap!). Secure him in a pet car safety seat. This is much safer for everyone.
Never leave your dog alone in a car on a hot day. This shouldn't even need to be said yet I still hear about it happening. Don't risk your dogs life for the sake of convenience.
Make sure your dog is microchipped and is wearing a collar with tags and a current phone number. If he should somehow get lost this might be the only one you can find each other again.
It's not only the dog's safety that should be considered. Make sure he is up to date on all his shots and bring a rabies certificate with you when you travel. In the unlikely event he decides to take a bite out of someone's shin, you will be prepared to show proof he got his rabies shot.
Invest in a pet first aid kit. It's like insurance, hopefully you won't need it but if you do you will be glad you have it.
2. Where Everybody Knows His Name
Being a human being has all the perks. We are free to do what we want and go where we please (and even write about it too). But our dogs can only go where we take them and a lot of places won't accept him. You can leave him with a pet border but that's more like sending him to camp not taking a road trip with him. The obvious solution is to go to pet friendly places where he will be welcomed. Fortunately the United States is a country where people really love their pets so more and more places are accepting them. Here are some that we know about but it's always a good idea to call them and double check as policies have a tendency to change with little or no notice.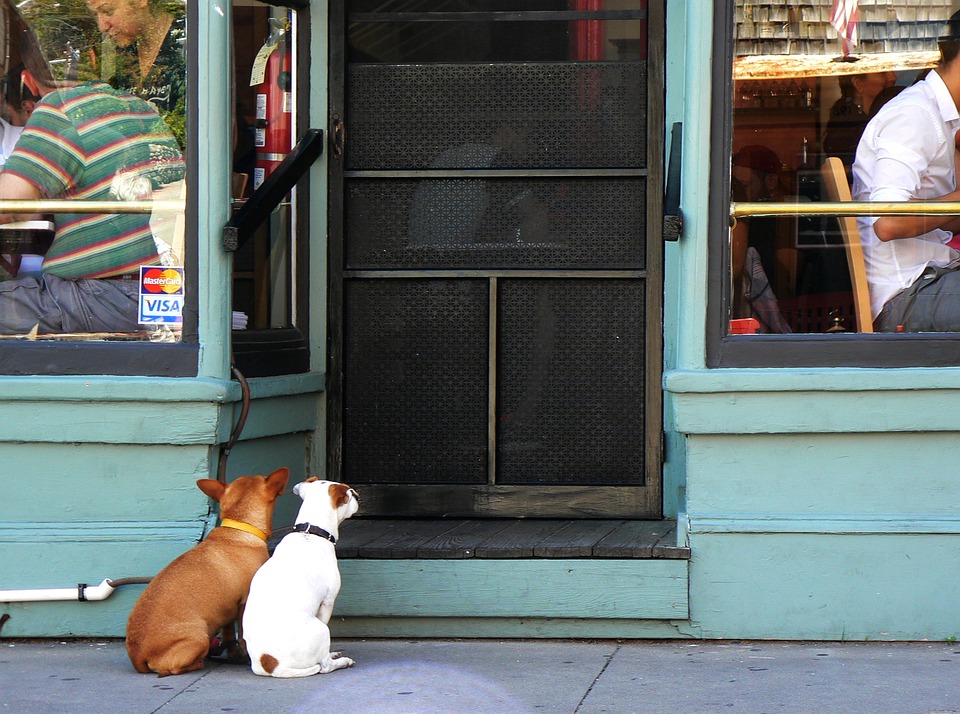 Hotels: La Quinta Inn, Red Roof Inn, Courtyard by Marriott, TownePlace Suites, Residence Inn, Comfort Inn and Suites and Motel 6 are pet friendly but some of them charge an extra fee.
Stores: It used to be our dogs were only allowed in PetSmart, Petco and other pet stores. But a lot of places have become pet friendly the last several years. Hobby Lobby, Lowes, Home Depot, Barnes and Noble and Bass Pro Shops are just a few of them.
Restaurants: This is trickier because food establishments can't allow dogs because of health regulations (and a lot of people are not thrilled to spend money dining out only to see your buddy laying nearby, licking himself). But there are still plenty of locally owned restaurants (and some chain) that allow dogs to be in the outside table areas. The best thing to do is go to BringFido and type in your location to get a list of restaurants that allow dogs. This is an amazing site you can use to find hotels and restaurants too.
3. Don't Forget His "Stuff"
I never thought about how much "stuff" a dog needs until we adopted two of them! I always pictured them just hopping in the car with us and taking off. That's fine if you're going across town but a road trip is a whole other matter. Here is a list to help you pack for your dog.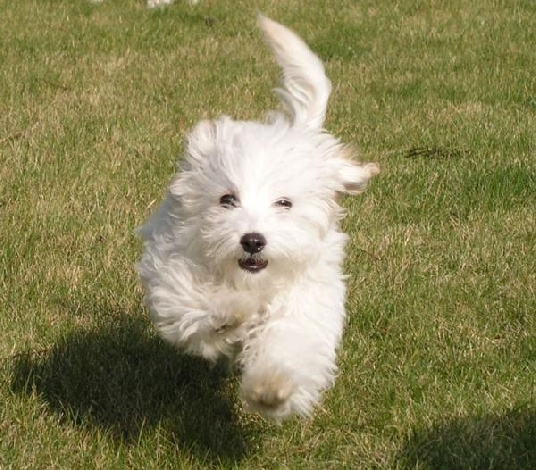 Dog food
Travel bowls for food and water
Dog toys
Dog blanket
Dog bed
Kennel
Harness and leash
Folder to keep vet records
Grooming accessories
Pooper scooper and bags
Medications if applicable
Treats (these are our dogs favorites)
Pet First Aid Kit
4. Reduce Stress and Anxiety
Dealing with bored kids is one thing (there's an article for that) but nobody is going to have fun if the dog is stressed and anxious. He's just scared and doesn't understand what's going on. Here are some ways you can help him.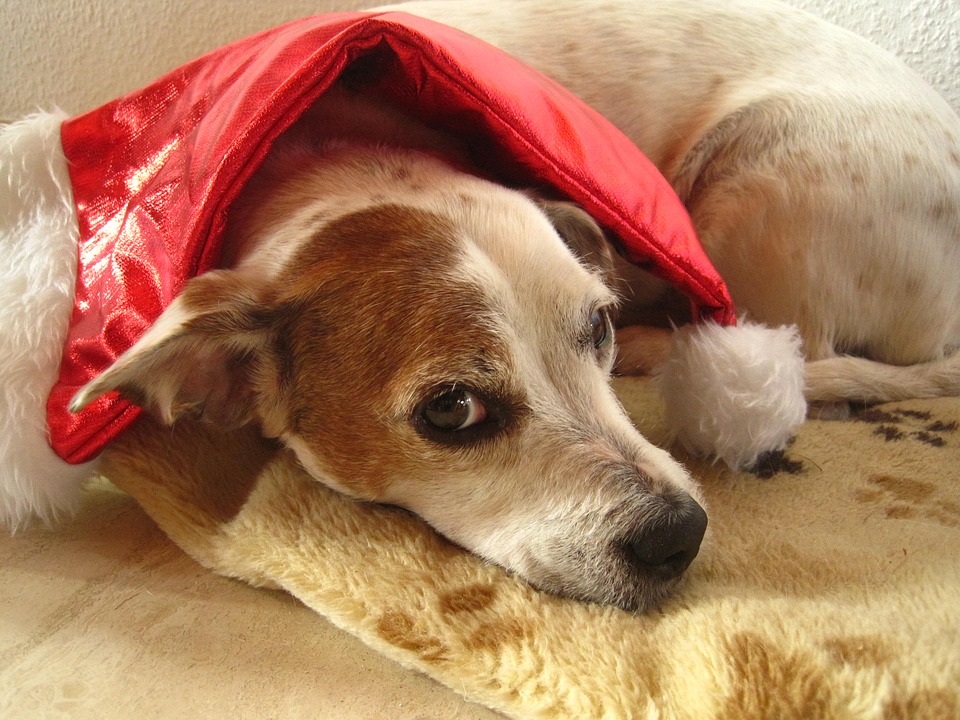 Make your vehicle something he associates with a good time. If he only knows your car as that scary monster that takes him to the vet to get a thermometer shoved up his butt then he's going to get anxious each you take him for a ride. Take some short, practice trips to the dog park or other fun places and he will be all ready to show you who's a good boy by the time you leave for your big road trip.
Some dogs need a little extra help when it comes to anxiety relief. The Thundershirt is a great solution for helping your dog feel safe and calm while traveling.
Do you like to crank the music up high? Remember, your dogs sense of hearing is way stronger than yours. What sounds to you like rock music might sound to him like the Apocalypse. Turn it down to a level less stressful on his little ears.
Bring familiar comfort items from home. Our dog Sugar is attached to a red stuffed animal bird toy. She sleeps with it every night and carries it around in her mouth during the day. We bring it in the car with us because it's comforting to her. Our kids had "loveys" or security items when they were little. I never imagined my dog would too yet here we are.
Tell Us About Your Dog
Do you have any interesting stories about traveling with your dog? We would love to hear them! Share them with us in the comments below.

We are a participant in the Amazon Services LLC Associates Program, an affiliate advertising program designed to provide a means for us to earn fees by linking to Amazon.com and affiliated sites